Opinion: Despite lasting impacts, MSHSAA was right to stop spring sports
On April 9, the Missouri State High School Activities Association (MSHSAA) released a statement confirming that the 2020 spring sports season is canceled due to the coronavirus and will not be extended into the summer. The statement was released following Governor Mike Parson's order closing all Missouri schools for the rest of the school year.
MSHSAA's press release includes a quote from Executive Director Kerwin Urhahn thanking all student-athletes, coaches and administrators for the amount of effort they put into the season. Urhahn also goes on to address senior student-athletes directly, saying "While this is a difficult ending, the lessons you've learned and friendships you've made through high school activities will last your lifetime."
There were a couple of petitions formed in mid-March asking MSHSAA to either keep the spring sports championship or to extend the season deeper into the summer so all teams can play—but those petitions were never going to change anything in MSHSAA's eyes.
Of course, the cancellation of the spring sports season is upsetting to many, but ultimately it's the right decision for all student-athletes, coaches, parents and administrators. However, it will definitely have some unattended consequences for many people now, and for many people in the future.
At the forefront of a lot of people's minds is the Class of 2020. For many, the cancellation of the spring sports season is an unfortunate end to their legacy at Lafayette. They missed the last practice, the last game, the last team bonding session—everything that made playing a high school sport worth it. Some even relied on this season to boost college prospect chances.
The cancellation deeply affects the rest of the grade levels too, though. Juniors and sophomores won't get a chance to enhance their skills before being able to step into a leadership role in the 2020-2021 season. Others won't even be able to train for the following season if they rely on the school for equipment and facilities.
Many don't realize the move also has a heavy effect on the freshmen. Freshman year is a chance to try something new and learn to love it in a safe environment that isn't as stressful as playing on a junior varsity team or above. Due to the pandemic, returning numbers for spring sports in 2021 will likely be down for both the incoming freshmen and the returning sophomores.
Another point that comes to light in dark times like these is how dependent student-athletes are to their sport—and not in a bad way. Becoming a student-athlete takes grit and determination, and because of the coronavirus, many Lafayette student-athletes aren't reaping the benefits they're used to getting.
In the season, student-athletes typically get many physical benefits from participating in their sport, such as being more conditioned, gaining muscle mass and improving hand-eye coordination. Without practices at school and relying on their own equipment at home for working out, lots of student-athletes won't be able to keep a structured regimen.
Along with not gaining the physical benefits, student-athletes aren't gaining mental health benefits as well. Some student-athletes saw their sport as an escape from their school life, a way to make life easier. Without it, some aren't as happy. They're also losing team chemistry from team-bonding and losing the chance to better themselves as a person overall.
Lafayette's teachers and administrators have also been hit hard. The school has always been supportive of its student-athletes, and without them, it's been hard to find the bright side of things. Spring sports always brought a new fire to Lafayette—the chance of getting a State Championship before the school year ends—and now that chance is lost.
Despite all of these repercussions, MSHSAA was still right to cancel the season. These are unprecedented times for us as high school students, and it's always better in these situations to be safe rather than sorry. The sooner student-athletes stay at home, the sooner they can get back to the pools, the courts and the fields to dominate as Lafayette Lancers once again.
About the Writer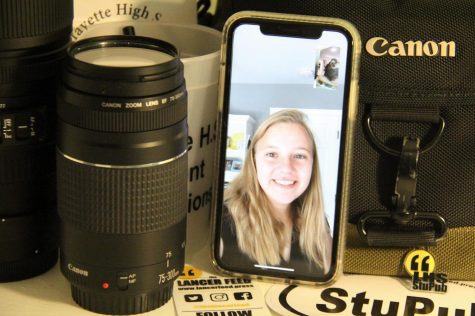 Morgan Vehige, Sports Editor
Morgan is a junior, and this is her third year on the news production staff. When she's not in the newsroom, Vehige can be found playing softball, reading or attending a local youth group. She can be contacted at [email protected]