OPINION: Superheroes empower marginalized groups
Hang on for a minute...we're trying to find some more stories you might like.
Superheros, some of the most widely known figures in pop culture, began in comic books then into their later expansion to movies and TV shows; these characters have often been labeled as for children-but they are so much more than their brightly colored suits and various powers and weapons.
These heroes are not only icons for children, but for everyone by breaking down barriers and ideals of the past as they reign in a new future full of hope.
Throughout the years, these characters have become symbols against racism and sexism. They have defied social standards and been a beacon of hope to so many people.
Superman was created by Jerry Siegel during World War II to fight bigotry and anti-Semitism. One of the most famous cartoons of Superman depicts him attacking Hitler. Originally, Superman was created to make a political statement and act as a symbolic character of strength protesting anti-Semitism.
Another World War II era hero is Captain America. He was drawn a symbol of the entire nation, used for war propaganda to inspire men to enlist. Like Superman, Captain America was also often depicted fighting Nazis.
After World War II, heroes became more centered as political statements on domestic issues, such as racism against African Americans and misogyny.
Superman was often drawn in this era as fighting racism embodied by the villainous Ku Klux Klan, reinforcing the notion that there needed to be an end to racism.
Another notable character from this era is Wonder Woman, who was created in 1941. As one of the first female heroes, Wonder Woman was a feminist icon. She broke stereotypes for women at the time and was designed to be a metaphorical equivalent to Superman. Wonder Woman represented the strength and power of women and the idea that women could be just as strong and powerful as men. The new hero gave young girls a strong woman to look up to, and Wonder Woman continues to empower people today.
By setting the standard for more diversity in comics, Wonder Woman started a revolution. Other heroes like the X-Men were created in direct response to the civil rights movement. The X-Men began to diversify the heroes and inspired the creation of the first black superhero, Black Panther, who brought about social and political attention as the character quickly caught on.
Superheroes throughout history have stood as political statements, helped to normalize diversity and represented hope, but even in the modern age we still need these heroes. When the tragedy of 9/11 happened, comic book artists depicted the heroes standing tall. They remained hopeful and optimistic in a time of fear for the nation and inspired people with their strength and power. They stood against hate and oppression, opposing injustice and protecting those who could not protect themselves.
The characters and stories we know and loved have changed a lot since the 1940s, but their purpose has not. These heroes today continue to empower and inspire those still suffering from inequality, as well as bringing hope to those who need it most.
Today, the symbolism of the past is still as important as it was when it was drawn. These characters still teach their audiences strength and courage, how to love and respect and how to defy all odds.
About the Contributors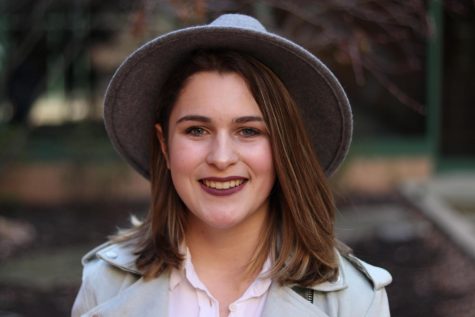 Elizabeth Elliott, Staff Writer
Elizabeth Elliott was on staff for one year.