ALBUM REVIEW: "Sing to Me Instead" by Ben Platt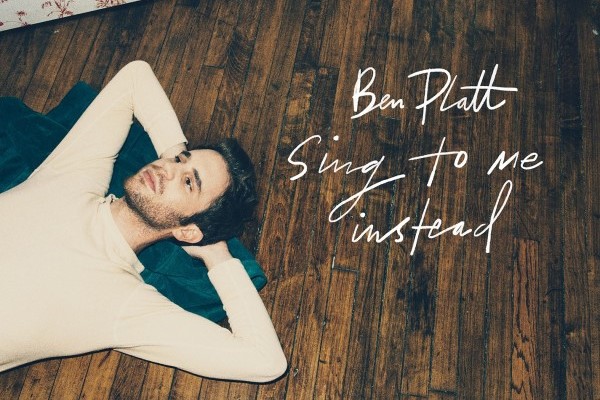 "Pitch Perfect" and "Dear Evan Hansen" star Ben Platt released his debut album "Sing to Me Instead" on March 29.
Platt released the first two songs on the album, "Bad Habit" and "Ease My Mind", on Feb. 1. Besides "Found/Tonight", which was written with Lin-Manuel Miranda and showcased numbers from both "Hamilton" and "Dear Evan Hansen", these two songs were the first of Platt's own creation.
Platt performed "Bad Habit" on The Late Show with Stephen Colbert on Feb. 21, effectively grabbing his fans' attention and keeping a firm lock on it.
For each song he released before the album, a music video accompanied it. In the "Ease My Mind" video, Platt and openly gay actor Charlie Carver act intimately to showcase the relationship demonstrated within the song. For Platt, it was the first time he publicly came out as gay.
In an interview held with The Daily Beast, Platt confessed that he doesn't want his recent declaration to overshadow the album. "I love that a byproduct has been being able to be representation for the queer community and to show that's very much part of who I am, but also I don't want that to replace the music itself," he said.
And it didn't. All the fans looked for in the album was an honest declaration from Ben Platt. And that was what they got.
The album is very lyrically-driven. It tells stories of love, heartbreak, regret and honesty, both with others and oneself.
To kick the album off, "Bad Habit" tells the story of how Platt knows that an ex is bad for him, but running back to that ex seems inevitable. This track is the only one that references the title of the album, with Platt singing, "Someone to quiet the voices in my head / Make 'em sing to me instead, it's you." These lyrics showcase part of the song's message—that in order to feel better, we tend to go back to others who make us feel safe, even though that, too, is unhealthy. The slow, melodic song has a haunting quality to it, but Platt covers over it with amazing, raw vocals.
The next song on the album, "Ease My Mind", has a lighter, yet more soulful, quality to it. The smooth instruments and Platt's light tone all combine to tell almost the opposite story of "Bad Habit"—how when someone is lost and anxious, a partner can help through troubles and ease bad thoughts.
"Temporary Love" is almost a song of hope—where a relationship is at its first test, and someone must show that their love is going to last. Platt's voice in the song was strong and controlled, but he still was able to sing in a higher octave and not waver. To do that is no light thing, especially for one's first album.
"Grow As We Go" was the final of the pre-release songs. This is one of the lightest songs on the album. With soft guitar strumming, this song is both contrasting yet complementary to "Temporary Love." It showcases how, even though people in a relationship may be different, they can grow together as people and make a temporary love permanent.
The first of the album's new songs, "Honest Man", is one of Platt's most personal. It tells the story of one of his relationships, where his boyfriend was still in the closet for the duration of the relationship. Platt asks the man to open himself up to people, saying, "If you come out, then so will I." The song features a gospel tone and showcases Platt's falsetto in a golden light.
"Hurt Me Once" is the only song on the album that discusses heartbreak at the moment that it's happening. The lyrics are melancholy, as Platt knows that a breakup is inevitable, but is prolonging the relationship for as long as possible. It's a haunting song, full of begging and sorrow and it rests heavy on the heart of the listener.
In order to increase the spirit of the listener after such a heavy song, "New" is the next song on the album. It's one of the more upbeat songs on the album, showing how one feels a breakup has made them into a new person of sorts. With an optimistic perspective of self-love, "New" should be considered a certified bop.
"Better" brings back the slower aspects of the album, telling a story similar to "Bad Habit". However, in this storyline, Platt doesn't go back to the person who hurt him. With a slow, melodic piano, the song allows for contemplation of a relationship, along with the overall quality.
While "Better" shows the end of a relationship, "Share Your Address" shows the beginning. The song starts off quick and immediately shows what it looks like to be moving too fast in a relationship, but not caring because you're in love. This song, too, is on the certified bop list.
"In Case You Don't Live Forever" is the number one tear-jerker on the album. Platt's voice is so raw and beautiful with the simple piano accompaniment as he tells his hero how he feels about him. Whether it be a boyfriend, a parent or some other figure in his life, Platt expresses his admiration in the most genuine way.
"Older" teaches a simple lesson that has been taught over and over again—don't prepare for the future too much, or you risk growing older and wishing you can turn back time. The musicality grows more complicated in the song, but in a lovely way that leaves the listener swaying on their feet.
The album's final song is arguably its best. "Run Away" tells the story of how Platt's parents got together, and how his father promised his mother that he would always stay with her and never "run away." The song shows how Platt learned from their example and how he plans to do the same in his relationships. He tells his partner one of the more important lessons of the album, "To love is not to leave… look in my eyes and know I'll always stay." The simple piano allows for Platt to seamlessly tell the story and bring a smile to the listener's face.
Overall, "Sing to Me Instead" is an incredible album filled with amazing vocals, haunting and beautiful melodies and simple but heavy-hearted instrumentals. Platt has set the bar high for himself and left us all to wonder if he's capable of outdoing himself for the next album.
This album is recommended to those who appreciate music and wish to connect with songs on an emotional level.
Rating: 9 out of 10