MOVIE MANIAC reviews Aquaman
Hang on for a minute...we're trying to find some more stories you might like.
I had the chance to see the big-budget superhero blockbuster about a guy who can talk to fish. I have to say, I am very surprised to report it was one of the best DC movies in recent memory. The film I am talking about is of course Aquaman.
Aquaman is the newest addition to the DC Extended Universe, and it was far from a fish-flop.  Starring Jason Momoa as the title character, it follows the brief origin story of Arthur Curry, who grows up and becomes the Aquaman, then following him after the events of Justice League. Aquaman's half-brother Orm wants to start a war between Atlantis and humans, and the only thing that can stop Orm is if Arthur replaces him as the rightful king of Atlantis. Along the way we have many jaw-dropping special effects and big action set pieces that we can come to expect from a superhero film. 
I have to say, Aquaman was another success under DC's belt.  In the DC Extended Universe it's usually a mixed bag, with the majority of the ensemble film flopping with critics and audiences alike. However, DC has landed some hits with Wonder Woman and Man of Steel. I am happy to report that Aquaman is another hit.
The performances are all top notch. Jason Momoa is the best casting choice they could've made for Aquaman. Aquaman is a character that previously many casual moviegoers wouldn't care to and see in his own movie. Momoa really made it his own and took a different and unique spin on the character that was very needed. Amber Heard plays Mera who's the love interest of the film and she was a strong leading woman beside Aquaman. She wasn't a damsel in distress. Then we have Dolph Lundgren as Mera's father King Nereus who did a surprising job, and then we had Willem Dafoe as Nuidis Vulko, Aquaman's mentor. Dafoe is a fantastic actor, so he was expectedly great as a father figure in a way. Patrick Wilson plays opposite of Momoa as the antagonist of the film. Wilson I believe is an underrated actor, whatever role he takes on he makes it his own. He's one of the more memorable performances, and an actually pretty good villain which is hard to come by. You really understood his character motivations which is what makes a great villain in any movie.
The special effects were top notch and it was reminiscent of Avatar at times with how colorful and eye-popping the effects were. The directing by James Wan was great. He directed the first two Insidious and The Conjuring movies, so he has worked primarily in horror. He did a fantastic job with this superhero epic, and I can't wait to see what he does next.
I'm going to give Aquaman 4 out of 5 claps.
About the Writer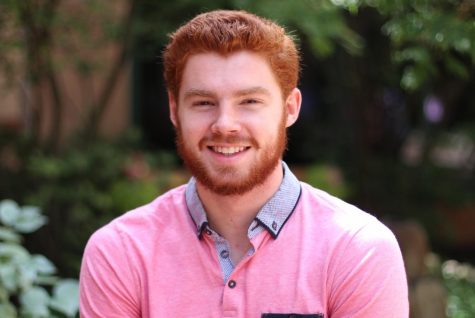 Jacob Ward, Staff Writer
Jacob Ward is a senior, and this is his second year on staff. Jacob has done cross country and track. Outside of school, he enjoys lifting, running, photography, reading, and writing. When he gets older, Jacob would like to work in either film or journalism. He can be contacted at jward065@rsdmo.org.