MOVIE MANIAC reviews Elf
Hang on for a minute...we're trying to find some more stories you might like.
Elf is one of my favorite Christmas movies just because of how different it is from the rest of the cookie cutter holiday movies. It has so much charm to it.
Elf is a 2003 fantasy/comedy starring Will Ferrell as the main character Buddy the elf. Also starring Jon Favreau, Zooey Deschanel, James Caan, Ed Asner, Bob Newhart, Peter Dinklage and Mary Steenburgen as the essential characters. Directed by Jon Favreau. I got the chance to go to a late night holiday showing of it at Marcus Wehrenberg recently and it was great to see it on a big screen. It will become a Christmas classic in the future. In my opinion it has already reached that status. Elf is a must-watch every holiday season.
The film is about Buddy the elf who was accidentally transported to the North Pole when he was a toddler and raised among Santa's elves. Once he hits adulthood, Buddy realizes he doesn't really fit in with the other elves. Besides the fact that he's freakishly taller than all of them, something deep down just didn't click with the other elves. Buddy decides to run away and travel to New York (in full elf costume mind you) in search for his real father. Along the way are tons of comedic shenanigans that you can come to expect from Ferrell and a coming-of-age story as well.
The quality that's so unique about this film that makes it different than other Christmas movies is all thanks to Will Ferrell. Ferrell has always been a comedic genius somehow. Not all of his movies are hits that's for sure, but Elf is definitely a hit. His characterization of the naive and innocent Buddy the elf is fantastic. As for the other performances James Caan as his biological father was also very well-casted. That father-son relationship they had at first brought a lot of lightheartedness to the story. As well as his relationship with his elf Dad (played by Bob Newhart). Zooey Deschanel also brings a lot of levity to the film, as she becomes Buddy's eventual love interest. The performances are pretty solid overall, there's no bad performance. However, Ferrell is definitely a stand-out, as usual.
At the core of the film, it also has a great message about family, which is something that connects it with other Christmas stories. Seeing a family which was once broken come together for the first time. Also another lesson about finding your individuality and standing out from other people.
I can't pick apart any negatives I can find in this movie. It moves at a pretty fast pace which is good throughout the movie. I guess the only real negative I can find is that act 1 takes a while to get going because it's all the exposition. Other than that Elf is a near perfect fun holiday movie you can watch with the whole family. It's not something to take really seriously. Just a fun popcorn-flick that you can sit down and have a good time for an hour and thirty-seven minutes.
I'm gonna give the movie Elf 4.5 out of 5 claps.
About the Writer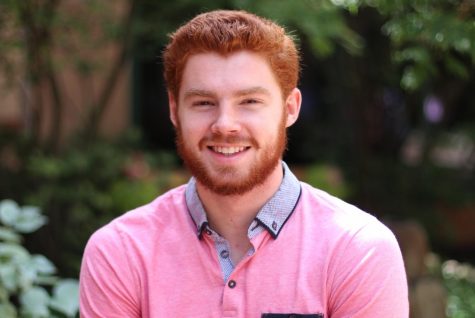 Jacob Ward, Staff Writer
Jacob Ward served on staff for two years before graduating.