OPINION: My experience as an only child
Hang on for a minute...we're trying to find some more stories you might like.
During a college admission interview last summer, the admissions officer asked me what my favorite thing about my brother is. I jokingly said it was that we have a telepathic connection.
Although my response was initially a joke, I began to realize the true special bond that my brother, Cameron, and I have.
I've become even more aware of our unique bond when Cameron left for college in Michigan in August. The seven hour away distance between us has made me appreciate our relationship even more.
Being the only child in my house for the first time in my life has been strange. I haven't had someone to play spontaneous games of Mario Kart with, fight in the driveway during one on one basketball games with, go on runs to play Pokemon Go with or watch random movies with.
While I no longer have to wait for him in the mornings and arrive to school only a few minutes before the bell rings, my car rides to school are now lonely and boring. Some mornings, when I'm extra tired, for a few minutes I even forget that I don't have to wait for him anymore.
Perhaps the most noticeable difference was during Thanksgiving. Since Cameron wasn't able to come home for the holiday, it was the first Thanksgiving of my life that I didn't spend with my brother also at the dinner table. My family's Thanksgiving only consisted of my parents and myself. Needless to say, Thanksgiving did not feel like Thanksgiving at all, as it was super empty and boring.   
I knew when Cameron left for college that my life was going to be different, but I wasn't really prepared for how different it would be. I took our special relationship for granted, and I didn't appreciate the little things he did for me like providing me breaks from homework by constantly bothering me to play a video game or basketball with him or making me laugh casually making fun of me or showing me a random comical video.
Going from seeing my brother every day, driving to school and running cross country with him to quick 15 minute phone calls only once a week has been a difficult yet eye opening experience for me. Although I'm now lonely and bored at home, I'm able to better empathize with only childs. I'm glad I've been through this experience because it's made me more thankful for the bond I share with my sibling. 
When I said Cameron and I had a telepathic connection, what I really meant was that, often times, we think the exact same way. We can simply look at each other in a given situation and immediately know what the other person's thinking. We barely have to talk to know exactly how each other feels. We can tell when our parents are bothering one of us or when one of us needs to be left alone for a little while.
While Cameron and I obviously don't have a literal telepathic connection, we do have a unique bond that I now understand the importance of and will no longer take for granted.
About the Contributor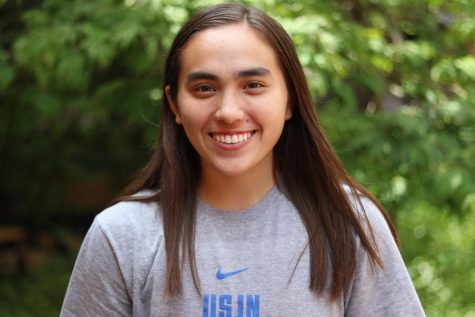 Kayla Carpenter, Editor-in-Chief
Kayla Carpenter is a senior, and this is her third year on staff. She is a member of the girls basketball team, National Honor Society, Lancers Helping Lancers, and Key Club. In her free time, she enjoys petting dogs and reading. After high school, she plans to study pre-med and go to medical school....