OPINION: How running unexpectedly changed my life
I was proudly wearing my Green Pines track uniform, not fully knowing how embarrassed I would be moments later. For some unknown reason I, a chubby fifth grader with a personal mile record of around 10 minutes, was chosen as the alternate for the mile at the annual track meet.
One thing led to another and I was on the line of the Lafayette track, ready to start my running career. The gun went off and I began. Immediately I was in the back of the pack and the distance between me and all the other runners began to expand. On one corner, some kind high schoolers were cheering on the Green Pines kid that didn't seem like she knew how to run. I was lapped a few times by leaner, more trained elementary kids.  It felt like years past with each lap. The heat was grueling. Put simply, I wanted to stop and throw up, I was angry at my P.E. teacher for making me do this.
I can easily say it was not my best moment. I ran around a 12 minute mile and I swore to myself I would never be on the track team again, especially not for the mile.
Funnily enough my first race as a Lady Lancer was the mile, running the mile in six minutes and 33 seconds. Looking back it is crazy to see the growth and strengthening I've achieved. But I believe the most important thing gained out of that horrible day in fifth grade was the ability to do something despite the odds.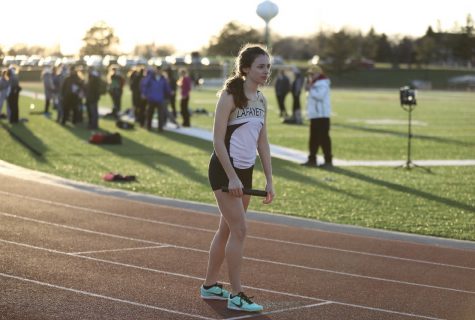 Today, running is an important part of my life, I've run track my first two years of high school and now, as a junior, I joined the cross country team. Every day I am reminded of the strength and dedication running takes by looking at my teammates. I constantly see these girls fight back from injuries and come to practice ready to work despite all that may be going on in their lives.
Despite the injuries that create obstacles, despite the time consuming homework, despite the challenging home life, these girls come to practice and run anyways. And despite the fact that I had a horrible experience of running the mile, I ran in high school anyways and it was one of the best decisions of my life.
Often times, when people hear I run long distance, they ask why I would put myself through the constant struggle. However, I hear more often of runners rave of the lessons running has taught them and the community that brings so many people together. Although running is difficult and injuries occur often, I wouldn't change my sport for the world.
My sophomore year of track was one of the most rewarding experiences of my life. I ran all summer long and Crossfitted in the winter to prepare. At first my hard work didn't pay off, but the more I raced, the more I understood how to run.
The turning point was one Tuesday afternoon when the only running partner for the workout was a teammate much faster than me. After each 600 meters I wanted to throw up, I had a really hard time. But my team cheered me on and my running partner pushed me harder than I've ever been pushed.
That weekend I hit a personal record in the 800 meter run, putting me on the varsity 4×800 meter relay.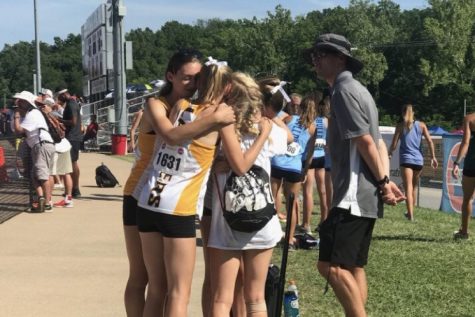 This leads me to the most important race of my life. Now you may be thinking right now, how could she ever beat the incredible race she ran in the fifth grade? Well, I never thought I would have a better race than that until my relay team made it to the State championships.
Once again, I was on the starting line, this time proudly wearing Lafayette across my chest. I clutched the baton, reminding myself of all the ways I could disqualify the team in these two laps. The gun went off and the next two minutes and 28 seconds were the scariest moments I've ever experienced.
It felt like every single long distance runner was right next to me, all trying to fit into eight lanes. We each fought for the first lane, throwing elbows and trying not to trip.
I can vividly recall every moment of the race, all the fear and adrenaline that built up until I passed the baton to my teammate.
Although I didn't run a bad race, I had regrets. I re-raced those two laps over and over all summer long in my mind, thinking of each moment and how I could have passed another girl. I felt as if I let my team down for not getting us in a better placement and when I told a teammate this she told me she wouldn't have had it any other way. Right then, my team taught me the importance of looking to the future rather than regretting the past.
In the two most important races of my life, two very different versions of me competed, yet I learned important lessons in each race.
Because of my fifth grade race I was taught that one experience should not dictate if you try something or not. If I had not made the rogue decision to join the track team in high school, I would not have learned that reliving the regrets in the past hinders the growth in the future.
Running has influenced who I am today, and I am thankful for each and every race I have competed in, the good and the bad.