How long until the Homecoming Parade?
Parade Time!
Homecoming Week is where all the festivities before the big Homecoming Dance happen. Sept. 22, the last school day of the week, a parade will take place, starting at Green Pines Elementary and ending at LHS. The highlights of this parade are the decorated floats teams and clubs create. Oftentimes, students and parents will line up in the neighborhoods where the parade will take place, to see the floats and get the candy that students in the parade give out.
Each float in the parade is made by the members of its activity during school, after school and even at student's homes.
The girls golf team decided to take part in this year's parade. In order for the team to participate, senior Stella Montgomery is in charge of providing a trailer for the float. Her father will be driving the team through the parade.
With the trailer ready, the next step for the group was to decide on a theme for their float.
"Our float theme will be 'Once Upon Tee Time' going along with the theme of Homecoming," senior Megan Bilsland, girls golf team member, said.
Bilsland also notes how decorating the float for the parade this year will be a chance to get close to one another. 
"We are decorating the float at my house and it will be a team bonding [event] with dinner and everything," Bilsland said.
To make sure that they have everything set for their decorations, the team begin their planning and preparation a few weeks prior to the parade. 
"We started the planning around [Sept. 8] so two weeks [before] the parade and are decorating most of the float on [Sep.21]," Bilsand said.
Like girls golf, choir is also participating in the parade and they have a process of their own. 
They first started by getting their float and permission to be in the parade from  choir teacher Christy Shaffer.
After getting their float, Shaffer handed over the float's theme to choir's Homecoming chair, senior Julia Cundy. 
"I chose Disney Descendants since we're singing a song from that movie in the parade and it fits the 'Once Upon a Time' overall theme," Cundy said.
To help with decorating, choir put out sign-up sheets for anyone who was interested in staying after school. During that time, they accessorized their float.
"We paint, blow up balloons and finish anything else to add to the float," Cundy said.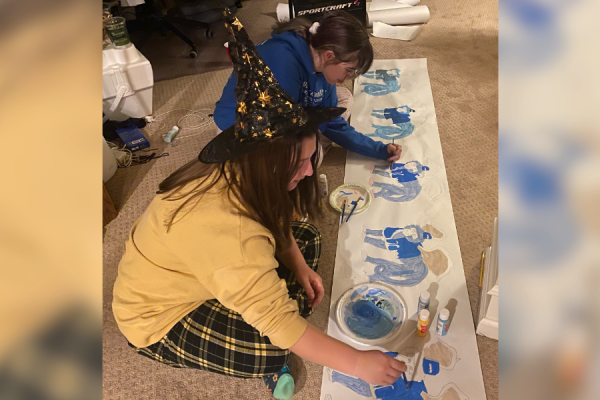 Along with those two groups, Lafayette Theater Company made the choice to take part in the parade festivities. They started by getting their float from senior Chase Novack and asking for donations from members of LTC to help buy supplies. 
For their theme, they also decided to stay close to the overall homecoming theme of 'Once Upon a Homecoming,' by mixing in theater.
"We decided the theme based on the 'Once Upon A Homecoming' theme, but we also wanted it to be involved with theater and be well know. So we went with Wicked because it's really popular and is similar to a fairy tale," vice president of LTC, Natalie Caudle, said. 
Caudle mentions how the whole process of getting their float ready is a fairly lengthy one that requires after-school effort.
"The process is very long. From planning what supplies to get, asking for donations, planning a day to assemble things to actually putting everything on the float, it maybe takes four days of working after school," Caudle said.
Although groups at Lafayette have some differences and similarities in preparation of their Homecoming floats, they all end up unique with different themes.
What are you most excited for about the parade?
Sorry, there was an error loading this poll.