Class of 2023 deadlines to know for last week of high school
The last day of high school for the Class of 2023 is coming up fast on May 26. With school coming to an end, seniors have a checklist of requirements that need to be completed by certain deadlines.
All of the following important senior deadline dates mentioned have been sent out in the weekly email by Assistant Principal Tim Jones and secretary JoAnne Allison along with the links needed.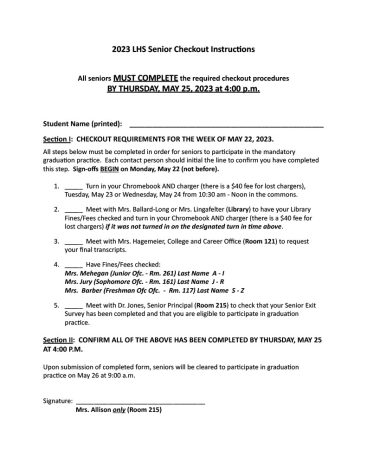 Checkout Sheet: Due May 25
Starting on May 22, seniors will need to complete a checkout form that was sent in the weekly email by JoAnne Alison before the last day. Sheets can be found online or printed copies are available in the Senior Office. Items on the checkout form include the following: turn in their chromebooks along with chargers, check with the librarians to make sure fines are cleared, meet with College and Career Counselor to get final transcript and meet with Jones to make sure the Senior Exit Survey has been completed. To check for any additional fines, seniors will also need to check in with the other class office secretaries according to their last names. Last names A-I will also have to go to the Junior Office and speak with secretary Kelly Mehegan, Last names J-R will go to Sophomore Office and speak with secretary Lisa Jury. Last names S-Z will go to the Freshman Office and speak with secretary Karen Barber. The checkout sheet must be completed and turned into the Senior Office by May 25 at 4 p.m. so that students are able to participate in the mandatory Graduation practice.
Preferred seating for graduation raffle ticket drawing : Due May 19.
This is an opportunity for families to win a raffle to win the best four seats in Chaifetz Arena. The winner will be drawn on May 26.
2023 end of year procedures for meal account
Parents and guardians must request a refund for money in the meal account from Rockwood within a year of graduation. All funds left in the accounts will be given back to students in Rockwood.
Library books: Due May 22
Students with fines or fees will not be able to attend graduation practice or graduation until fees are paid.
School emails close June 30
After June 30, students will have no access to their email accounts.
Baccalaureate RSVP- due May 22.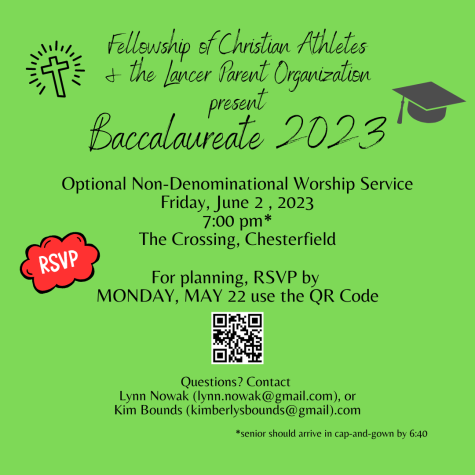 Located at The Crossing from 7 – 8 p.m. on June 2, Baccalaureate is an optional event organized by the Fellowship of Christian Athletes and Lancer Parent Organization that includes a non-denominational worship service. Seniors are asked to arrive 15- 20 minutes before 7 p.m. so they can get lined up to walk on the stage wearing their cap and gown.
Mandatory Graduation practice: May 26
Graduation Practice will be the last day of school for seniors. Seniors are required to attend practice in order to participate in Graduation ceremonies. Practice will start at 9 a.m. and end at 11 a.m. Students will not be able to attend if they have outstanding fees or have not completed the checkout sheet. All seniors will receive their caps, gowns, honor cords, stoles and any other Graduation-related items along with the Image Senior Magazines at practice. If needed, there is a make-up Graduation Practice Tuesday, May 30 at 1 p.m. in the Commons.
Grade/Middle School Throwback Walks – May 26
After being dismissed from Graduation practice at 11 a.m., seniors will have the opportunity to walk through Rockwood Valley, Wildwood and Crestview Middle Schools and also Chesterfield, Ellisville, Babler, Green Pines and Pond Elementary Schools to visit former teachers and classrooms. The middle schools will welcome seniors at 12:30 p.m. and the elementary schools will welcome seniors at 1:15 p.m. This event is voluntary and there will not be any transportation provided by the school.
Senior Celebration – $75 due May 31
After graduation, students will have the opportunity to go to Amp Up Action Park to celebrate their graduation. Tickets are $75. Senior Celebration at Amp Up Action Park starting at 11 p.m. ending at 5 a.m. will take place June 3, the same day as graduation. Reservations made after May 31 will cost $90. Volunteers are also needed for the event.
Graduation – June 3
Graduation will be at St. Louis University's Chaifetz Arena June 3 starting at 11 a.m. Seniors need to arrive at the graduates-only entrance (Gate A) at Chaifetz Arena by 9 a.m.  For parents and guests, the entry doors to Chaifetz Arena will open at 10:15 a.m. and the seating area will open at 10:30 a.m.
In addition, the Senior Office shared the dress code in an email to seniors.
"Students will need to wear business attire to participate in the graduation ceremony. All students are required to wear professional attire (ie: tie, dress shirt, dress shoes, dress, dress slacks). Students are not allowed to wear jeans, shorts, tennis shoes, or flip-flops. Seniors not in appropriate attire will not participate in the ceremony. Also, no decoration of graduation caps will be permitted, and only school-sanctioned honor cords and regalia may be worn," the email said.
Graduation will also be live streamed at this link.
Any additional information can be found at the Lafayette website or by contacting the senior office at 636-733-4112.