Water main break causes damages to greenhouse, preschool
A water main break caused damages in and around the greenhouse at 5:30 p.m. on Dec. 25. At the time, all staff were out of the building.

Lafayette's Student Resource Officer Chad Deakin was the first to be alerted by the fire department. He assumes that the original call made to 911 was made by someone passing by that saw the water. Deakin then called Karen Calcaterra and informed her of the situation.
The damages, though primarily to the greenhouse, reached the preschool in Room 108.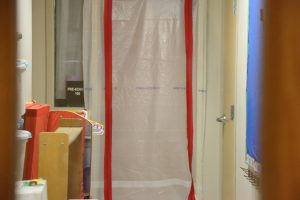 This caused a temporary relocation of the preschool to Clarkson Valley Early Childhood Center. Repairs are expected to take at least another week. Outside of school, there was leaking water that eventually became ice.
"Because it was so cold out, the water froze over," Calcaterra said.
The fire department was alerted of the ice and was able to get into the building and shut off the water so that the damages did not spread.
Regarding the costs for repair, Calcaterra said that Lafayette itself will not be charged, but instead, the district will take care of it
"Just like if we were to need a new door installed, Rockwood would cover the cost for that," Calcaterra said.