Community mourns loss of assistant volleyball coach
Sonya Sud, Assistant Editor in Chief
June 8, 2022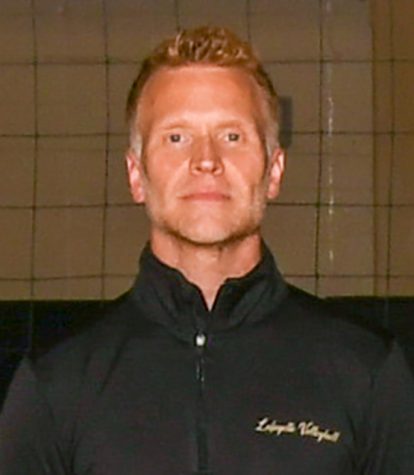 The Lafayette community is mourning the loss of Chris Toomey, a volunteer assistant girls volleyball coach at LHS. His family shared that he passed away unexpectedly at his home on Monday, June 6, due to a cardiovascular event.
Along with working with the girls volleyball program at Lafayette, Toomey was the Director of People & Culture at Pathfinder Church in Ellisville, according to the church website.
Before moving to St. Louis in 2013, Toomey was a Division 2 volleyball coach at King University in Tennessee. In 2018, Toomey decided to reach out to Zach Young, the varsity girls volleyball coach, to volunteer.
"He had seen us play a few times, really missed volleyball and would love to help us out. He instantly fit in with how we run our program and Chris brought a positive energy to our team," Young said.
Young said Toomey was a great coach for his optimism and enthusiasm.
"Chris obviously knew the game and how to teach it, but what made him a great coach is the way he could relate to players," Young said.  "He was constantly positive, yet challenged them to be the best version of themselves on and off the court."
Interim Superintendent Tim Ricker said in an email sent out to Rockwood staff members that counseling is available for staff, students and families who may need some support.
Toomey coached sophomore Alyssa Nelson, who has played on Lafayette's varsity volleyball team for two years.
"Chris was the type of coach who always had a smile on his face, and it was so big that it put one on yours as well," Nelson said. "He had the most pure heart and set the perfect example of how to treat other people. Chris was the coach who made volleyball fun for everyone involved including coaches, parents and of course, the players."
Toomey's LinkedIn profile said he graduated from King University in Tennessee in 1997 with a bachelor's degree in Behavioral Science. He also earned a master's degree from the University of Tennessee-Knoxville in 1999 in Sports and Fitness Administration And Management.
While Young only knew Toomey for four years, Young considers him to be one of his best friends.
"Lafayette was incredibly lucky [Toomey] chose us to come make a difference with. Chris was one of the kindest people I've ever met and he inspired anyone he came across to be a better person. He made me a better person," Young said.  "I consider myself blessed to have known Chris Toomey and will miss him dearly."
A memorial service was hosted at Pathfinder Church in the Sanctuary on Friday, June 10, at 2 p.m., followed by a reception in the Commons.