JSA collects donations for Afghanistan refugees
Sponsored by the Junior State of America (JSA) club at Lafayette, a donation collection for Afghanistan Refugees has been underway since Aug. 24. Led by senior Natalia Parr on behalf of the JSA, the collection will end on Sept. 3. 
The idea for the donation drive started when Parr saw a woman in need of help on Instagram. From there, she was able to get a better idea of what she could do to help the woman and help the refugees.
"It was a young woman that had been helped by the International Institute. The lady is doing a donation drive with them because they are always in need of items. I messaged her on Instagram because I [was] so certain that I could help," Parr said.
World events such as the evacuation of Afghanistan has caused a need for all the refugees fleeing the fighting. 
"As many people know the Taliban has taken over Afghanistan and people are trying to get out as quickly as possible and that means that there are going to be a lot of refugees coming to St. Louis," Parr said.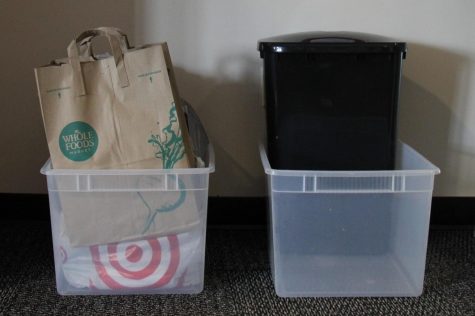 Items that are being donated can be placed in the appropriate box in front of the Welcome Center and there are multiple different needs. Clean kitchen items such as can openers, pots and pans, cereal bowls, mixing bowls and food containers can be donated. More items in demand are personal toiletries like toothbrushes and toothpaste, soap, shampoo, combs, toilet paper and diapers. New cleaning products and linens will be accepted as well.
"You can contribute to the cause by donating goods, all types of house items like bedding, toiletries, basically anything that you would have in your home these people really need," Parr said. 
Alongside Parr, senior Amani Daoud believes that any number of donations can do a lot of good for even the life of a single refugee.
"I look forward to seeing all of the donations because I know that one donation can change someone's life," Daoud said.
 Once the collection is over on Sept. 3, Parr will drive to South City and give the goods to the representative from the International Institute.