SRO reminds students, parents to remember parking lot safety
Hang on for a minute...we're trying to find some more stories you might like.
It's the same thing every day: the bell rings at 3:05 p.m. and every student with a car sprints out the door, nearly trips twenty freshmen and finally gets to their cars to realize there was no point in running because they still have to wait in ten minutes of traffic to even leave the parking lot. Despite this knowledge, students still repeat this routine daily.
Lafayette's School Resource Officer James McDonald wants to remind students and staff of parking lot etiquette. McDonald stands outside the school, in the morning and afternoon, to direct traffic.
"I've seen a lot. Parents don't keep the flow of traffic and stop in the middle of everything to drop off their students. There is a specific place to drop off and pick up students, and the middle of the action is not the place."
McDonald has also seen a lot of angry drivers who come in late to school.
"I stop you at the intersection for a reason. Don't throw your hands up and start yelling because I can keep you there all day. That's your problem because you couldn't wake up 10 minutes earlier. The reason we have all this traffic in the mornings when the bell rings is because students and parents love getting to school late."
The problem isn't just before school, either.
"After school students keep running to their cars, and students already in their cars start speeding and it becomes a mess. We have a 'stop for pedestrians' rule when driving. Always remember the cameras we have can see if you caused an accident or not. I have the ability to tell other officers in the area, 'Hey, watch out for this black Honda Accord because the driver seems a bit reckless' at any time."
During non-school hours, there are a lot of parents and their kids using the cones and parking lot for practice permit driving.
"We allow this. Of course, it's beneficial to practice driving before going on the road, and a parking lot is a great place to do it. Just make sure the cones are put back after you're done practicing parallel parking and sharp turns so my job is a little easier," McDonald said.
Hall Monitor Tom Quatmann doesn't just monitor the hallways. He also monitors the parking lot before and after school.
"I put four or five cones out before the special district buses come, and I keep a close eye on the kids who board those. When all the buses come, there's always a rush to get home, whether you're on the bus or driving a car," Quatmann said.
He also mentioned the role of parents in the safety of the parking lot.
"Parents are constantly dropping their kids off and picking them up right in front of the school, and this heavily disrupts traffic. Just use your eyes and be careful and smart," Quatmann said. "So far, in the couple weeks I've been working, it's mainly the parents who make things a little harder."
Lafayette's staff cares about the safety of the students and hopes that a reminder of the rules of the parking lot will make things safer for everyone.

About the Writer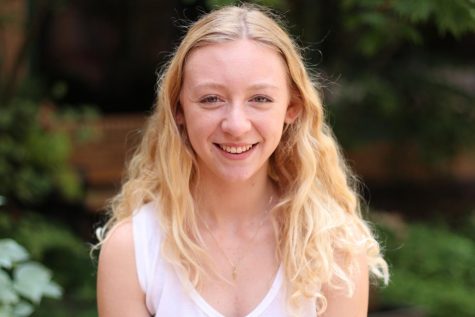 Natalie Karlsson, Lifestyle Editor
Natalie Karlsson is a junior, and this is her second year on staff. Natalie enjoys photography and hopes to work in genetic research after college. She can be contacted at nkarlsson052@rsdmo.org.