At Sept. 1 meeting, community patrons react to controversy surrounding BOE member's comments
Large crowd shows support for all Rockwood students who felt targeted by recent events
During the Board of Education meeting on Sept. 1, the main topic of discussion was controversial comments Board member Jessica Clark made at a Real Talk Radio event on Aug. 23. 
The meeting resulted in Rockwood moving to update its Code of Ethics and Clark's removal from two of her board committee assignments. At the meeting, there was a variety of expectations and opinions from community members.  
Sophomore Jalyn Hill, Clark's daughter, spoke at the meeting and said people should consider their own actions before criticizing someone else's.
"I think everyone forgets that everyone sitting on the board has a family to go home to. They have emotions, just like you do. And everyone sits here today and talks about, 'we're being bullied, we're not being included,' all this stuff, but then you go home and sit behind a screen and talk bad about someone. I don't think that's fair," Hill said.
Though there were a few others who spoke out to defend Clark, the majority of those in attendance came to demonstrate their disapproval with the way Clark's comments reflected on the district.
One speaker was Phil Milligan, who was the band director at Lafayette for 11 years before he left to work as an administrator in another district. While Milligan said he doesn't consider himself an activist, he decided to attend the meeting because of Clark's comments.
"When someone attacks students who can't stick up for themselves, it's up to us to stick up for them. I still consider myself an educator and I still consider it my job to make sure that the students who can't speak up for themselves have a voice," Milligan said.
In addition to Milligan, another community member who spoke included Lafayette Class of 2016 graduate Abbey Parker, daughter of Babler Elementary Assistant Principal Malissa Parker. She said she would like to see Clark removed from the board.
"We had done some research prior to the meeting on what possible legal recourse could be taken to remove her," Parker said.
However, due to a Missouri law, the removal of a board member is not possible.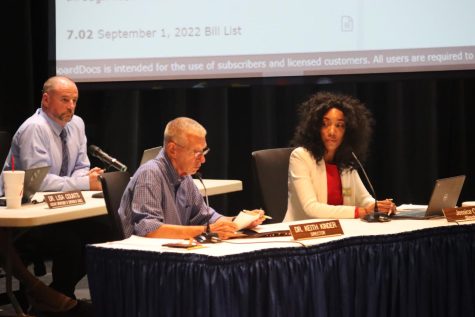 Parker said the comments made by Clark were harmful, but the worse consequence was the power elected officials have to influence both positive and negative movements.
"What follows comments like that from someone in a position of authority are more harmful because when elected officials or leaders speak in a way that is hateful or insights anger, horrible consequences happen," Parker said.
Parent Kate Pannell, who has a daughter at Lafayette,  said she came to the meeting not necessarily hoping Clark would be removed, but instead hoping she would at least acknowledge what had happened.
"I would like a couple of things [to happen at the meeting]. I think I'd like to hear more advocating for public education from the board in general. I think there may be some sort of update in the code of conduct. But if you're going to serve the people of Rockwood, then you need to serve the people of Rockwood," she said.
Lafayette parent Robin Avila also attended the meeting and hoped to see Clark step down.
"I'm hoping to get a resignation, but I'd prefer at least an apology or a public censure from the board regarding Jessica Clark," Avila said. "I think it's shameful. I think that the Board of Education is supposed to represent the students, and to disparage and literally cast out two entire groups of students in one breath is deplorable," Avila said.
Board members Izzy Imig, who was elected in April with Clark, and Keith Kinder, both made statements asking for Clark's resignation during Board comments. Kinder also acknowledged that a board member cannot be removed by other members. 
"She was duly elected and in the state of Missouri. As far as we know, there is no rule that says you can do something like that [removal of a board member]," Kinder said. "I want her to change. I think she could be a good board member. She has a lot to offer, but she's got to realize that she's there for every single student."
The board's next meeting is scheduled for 7 p.m. Thursday, Sept. 15 at Lafayette in the Theater. On the agenda is the first reading of the proposed revisions to Board Policy 0340 – Code of Ethics.