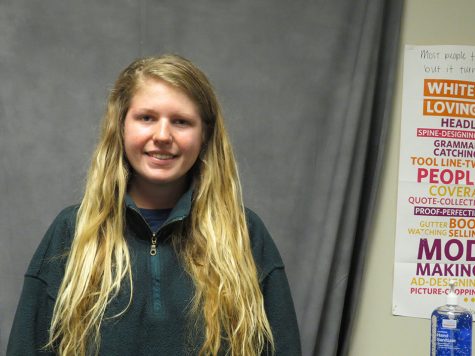 Suzy Blalock is a senior, and this is her third year on staff. She likes hiking, going to concerts and reading novels. She also enjoys working at Kumon and nannying. Suzy's favorite song is "I'm On Fire", covered by Low. Her favorite movie is
Palo Alto,
and her favorite show is 
Friday Night Lights
. Suzy loves a good bowl of mac and cheese. She knows she will end up at college after high school, though she has no idea what she wants to do.
Suzy Blalock, News/Features Editor
Nov 30, 2016

Band to hold annual Marketplace craft fair

(Story)

Nov 17, 2016

Boys volleyball holds ping pong fundraiser

(Story)

Oct 28, 2016

"Sister Act" auditions approaching

(Story)

Oct 17, 2016
Oct 10, 2016

Five Questions: Amber Spriggs

(Story)

Sep 17, 2016

Powder Puff and Male Escadrille sign-ups underway

(Story)

Sep 15, 2016

Quiz: Which Spirit Week Day are you?

(Story)

Aug 24, 2016

Cookie stand funds new water bottle fillers

(Story)

Aug 15, 2016

New school year brings changes, additions

(Story)

Apr 05, 2016

Out and About: Byrd and Barrel

(Story)

Mar 29, 2016

Last Time I… saw my cousins

(Story)

Feb 26, 2016

A Look Back: Beginning of computerized lunch systems

(Story)

Feb 16, 2016

Humans of Lafayette: Meet Chloe Descher

(Story)

Feb 03, 2016

Which new dance are you?

(Story)

Jan 15, 2016

DIY: 1-Minute Cookie in a Mug

(Story)

Dec 14, 2015

Finals schedule for week

(Story)

Sep 08, 2015

Renaissance Chick-fil-a fundraiser set for Sept. 9

(Story/Photo)

Sep 04, 2015

Where do you hang the most at Lafayette?

(Story)

Aug 26, 2015

Friday half-day and class assembly schedule released

(Story)

Aug 16, 2015

Drill schedule announced for week

(Story)

Apr 10, 2015

Royal: 1 out of 10 Missouri students to win scholarship

(Story)

Apr 03, 2015

iBots Robotic Team Ignores Gender Stereotypes

(Story)

Apr 02, 2015

HOSA members qualify for Nationals

(Story)

Mar 31, 2015

Chaos And The Calm: Too calm to be remembered, but enjoyable

(Story)

Feb 13, 2015

Out and About: Strange Donuts proves to be strange yet delicious

(Story)

Jan 21, 2015

Club Spotlight: Young Life sets out to be different from the rest

(Story)

Jan 12, 2015

Students bid farewell to Macaroni Grills

(Story)