Out and About: Maypop Coffee and Garden Shop
In May of 2018, Webster Groves gained a colorful and lively addition to its streets. Located on Marshall Avenue, the Maypop Coffee and Garden shop is a space where coffee, pastries, plants and excellent ambiance are provided.
In the main building where patrons enter, an old house has been transformed into a bustling coffee shop, often so busy it's hard to find a seat. There are beautiful decorations and plants gracing each inch of open space, creating an incredibly cozy and homey feel to the shop. The coffee itself is from Blueprint Coffee, and the food and pastries they sell are made by both the Living Room in Maplewood, and Like Home in Grand Center.
Maypop is not only unique because of its dual coffee and plant shop status, but a special deal that they offer encourages patrons who may not be familiar with plants to take one home. Making a purchase in the café can lead to receiving a free small plant that is priced at $4.00 or less. They even have a specific section to choose from so that it makes it easy for patrons to know which plants they may get.
Even though the house-turned café is a stunning entrance to Maypop, the best part of it is the greenhouse that lingers in the back. Filled with hundreds of plants placed throughout the space, the greenhouse is a green thumb's dream venue. With multiple repurposed doors, mirrors, shelves and tables that grace the greenhouse walls and floors, Maypop has a vintage aura to it that is welcoming for newcomers.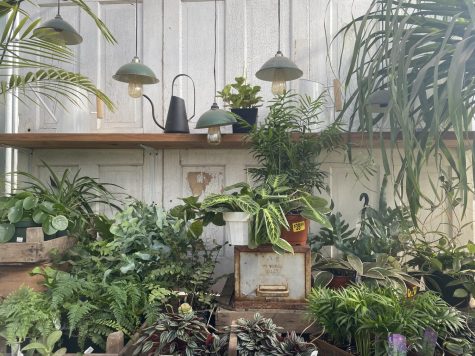 Not only is Maypop a gorgeous place to shop, it is also an excellent place to learn. The employees are always ready and eager to help, and their extensive knowledge makes it easy for a beginners to find what will work best for them.
Maypop's goal, as stated on their website, is to "aim to demonstrate the ease of creating both living interior spaces & functional landscapes. Our homes and yards can be a lush oasis of biodiversity that nourish, inspire, heal and entertain when planted thoughtfully. And we're happy to share the knowledge to get you there." They also chose their name based off of a native plant that when blooming in summer, is edible. The flowers of the Maypop can also be used for medicinal purposes and it also provides a source of nectar for insects.
Overall Maypop Coffee and Garden Shop is a wonderful place to visit with friends, family, significant others or even just by yourself. It is a very family and kid friendly destination in St. Louis. Located on 803 Marshall Avenue, Webster Groves, the café is open every day from 8 a.m. to 5 p.m. and the green house is open from 9 a.m. to 5 p.m.