Throwback Thursday: sophomore reflects on move to public school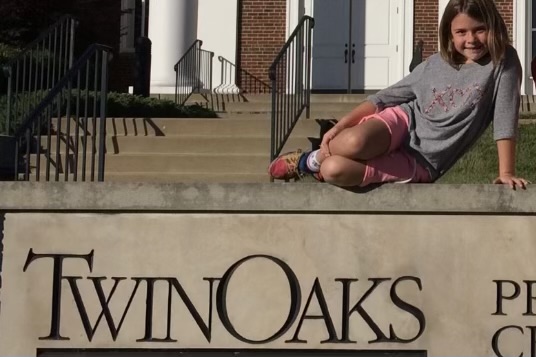 Maddy Cox, News Digital Content Editor
February 9, 2023
The move from a small Christian private school, Twin Oaks Christian School, to Rockwood Valley Middle School in the 7th Grade was not an easy change for sophomore Kyra Orrick. 
"My sister was transferring from private school to Lafayette, so my parents gave me the option of moving to public school or continuing with private school," Orrick said. "I wanted to meet more people, so I decided to move to public school." 
Orrick said class sizes were only about 20 people per grade, so students were close-knit.
"My social skills were not as good because I had been kept in such a small box. I didn't know anybody who had gone to a public school. Every one of my friends went to my private school," Orrick said.
One of the biggest culture shocks for Orrick was the shift in class sizes.
"There were multiple teachers for each grade. I had never experienced that before," Orrick said.
The public school dress code was another new experience for Orrick. While her school did not have uniforms, they had a strict dress code.
 "[At Twin Oaks] you had to wear pants or a dress with leggings underneath, you couldn't wear shorts. You could not have dyed hair. You could not wear make-up. You could paint your nails but they could not be long or brightly colored," Orrick said.
Since transferring to public school, Orrick has dyed her hair a variety of colors and frequently has long and colorful acrylic nails.
In terms of scheduling, Twin Oaks did not allow any students to choose their classes. All classes—including middle school classes—were laid out for students. Honors or challenge classes were not offered for both lack of funding and lack of students. For world language classes, only Spanish was offered and the students began learning it in elementary school. In terms of music, PE, and art classes, the school offered general all-encompassing classes.
Though she's been in Rockwood for over three years, Orrick is still adjusting to the switch. 
"I still feel like I have never truly set in into public school. The private school had such an impact on my life I feel like I never truly moved away from it and in the back of my mind I still go there," Orrick said. "I prefer public school. It gave me the power to decide [what] environment would impact me the most. If I was still in private school I feel like I would not be as strong emotionally as I am now."