Girl Scout Cookie sales beginning Jan. 7
After starting in 1917, the annual release of Girl Scout Cookies will be continuing again on Jan. 7. This year, there will be a total of 10 cookies, nine returning and one new cookie. The cookies consist of the new Raspberry Rally, Adventurefuls, Thin Mints, Samoas, Tagalongs, Do-si-dos, Trefoils, Lemon-ups, Girl Scout S'mores and Toffee-tastic.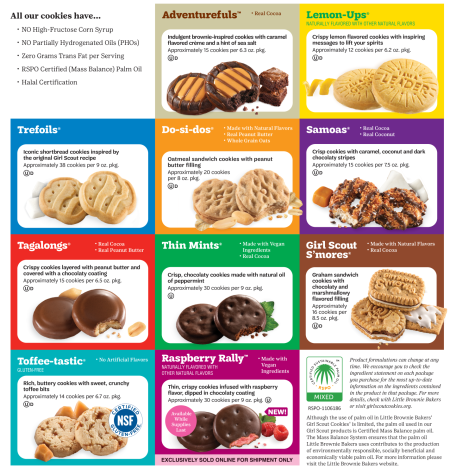 A usatoday.com survey reported that the most popular Girl Scout Cookie in Missouri is the Samoa cookie. However, nationwide, the top cookie is Thin Mints. Cookies can be bought directly from a Girl Scout or they can be purchased online at Digital Cookie.
With the sales of over 200 million Girl Scout Cookies each year, similar to last year, it will be difficult to keep up with the demand. Last year, Little Brownie Bakers, the licensed baker of the Girl Scout Cookie Program, experienced labor shortages causing a national Girl Scout Cookie shortage. This affected the local Girl Scout Troops last year and will still have an impact this year.
According to the Girl Scouts of Eastern Missouri, although their cookie program won't be strongly impacted, the "Girl Scouts will have to shift their sales focus." The shift will be in the form of a different timeline for sales.
Girl Scout cookies will be on sale from Jan. 7- March 19. Sales through individual scouts run through January. Troops can also set set up cookie booths from Feb. 17-March 12.
In addition, customers can place orders through the Girl Scouts Digital Cookie (www.digitalcookie.girlscount.org)  "This is for all cookie varieties," Girl Scouts of Eastern Missouri said. "Raspberry Rally is now only available via the shipped option in Digital Cookie (and in limited quantities), customers will only have access to order this cookie from Feb. 27 through March 19 (or while supplies last)."
Art teacher Meghan O'Donnell's daughter is a Girl Scout, so the family is very familiar with the cookies and the sales process. She said the last day her daughter's troop is taking orders is Jan. 28. People can still order through the Girl Scout digital orders after that.
This year, the cookies will sell for $5-$7 per box. The troops earn a base price of 75 cents per box sold and their are other incentives as well.
For junior Sydney Godi, she and her family plan to continue purchasing Girl Scout Cookies as they do each year.
"We usually head up to Dierbergs, Schnucks or Walgreens, wherever the Girl Scouts are selling them, and grab some. We usually get two or three boxes. We tend to get the same flavors, Samoas, Tagalongs and Thin Mints," she said.
What is your favorite Girl Scout Cookie?
Sorry, there was an error loading this poll.