Happy mind = happy life
Resources available to help with all different levels of stress, anxiety
More effort is being placed not only on making a variety of resources available for dealing with mental health concerns, but also for getting people to use those resources.
"Every student at Lafayette and in the Rockwood School District should be seeing a therapist," Terry Harris, Executive Director of Student Services, said. 
Harris stressed that therapy doesn't have to be forever, but it can help people understand themselves better.
"There's a time where therapy helps people because they're stressed. Sometimes therapy helps you because you're grieving. Sometimes therapy helps you with relationships," he said.
Harris said it is important to normalize therapy so students feel comfortable seeking help when they need it.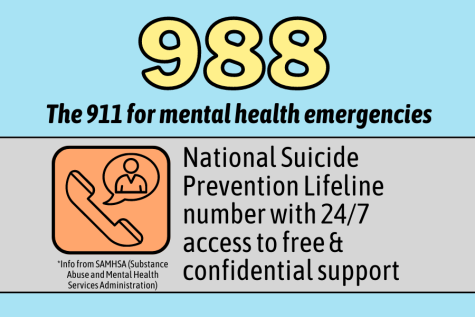 "There's stigma against therapy, so people who are hurting and are in pain that actually need to go to therapy are not doing it. No one stigmatizes working out, so let's make therapy like working out," Harris said.
He also said mental and physical health need to be treated with the same attention.
"Which do you think happens more consistently, being physically hurt or emotionally hurt? Emotionally hurt happens more often," Harris said. "Yet, people are more willing to go see the nurse because of a physical scar versus going to a therapist to discuss emotional scars."
Harris said students need to understand that it's OK to seek and need help. 
"If you're in a space where you see the glass half empty, that's OK," he said. 
The Hazel Health program, an online counseling system where students can meet with a readily available therapist, is in its second year as a Rockwood resource.
For students having urgent issues and needing immediate attention, Harris said he knows there aren't always enough school counselors to give them that attention.
"It was happening in communities, therapists and social workers are booked, they have a huge caseload. So how can we add more therapists, more social workers, more counselors, to our district, so that any kid that is in need of support can have access to an adult immediately or within 24 hours?" Harris said. 
The answer was Hazel Health, as it was able to add even more licensed therapists to give students the help they need. 
Any Rockwood student can use the Hazel Health program with parental permission, and it's completely free. To access this resource, a student should go talk to their counselor to set up an appointment.
"Every kid will have access to six sessions. If there are kids who are in need of more, then we're not going to cut that student off. We're just going to work with the providers to make sure that kids are in a healthy space before we transition the student off," Harris said.