Take It From Me: Preston Kellenberger
Graduate faces struggles throughout his music career
Throughout high school, Class of 2021 alumni Preston Kellenberger had some ups and downs, but he learned some valuable life lessons along the way.
Kellenberger first experienced the desire to play music from his older sister's performances.
"At first, watching my older sister perform in school band concerts convinced me to join band class. But, in 6th Grade I watched groups like the Blue Devils, Cavaliers, Bluecoats and Crown perform in DCI finals. After watching them in person, I told myself I would do that some day," Kellenberger said.
With Kellenberger's love for music, he gravitated towards activities that were music-related where he could just enjoy himself and have fun with his friends doing what he loves most.
"I was mainly involved with everything Music. Pit Orchestra, Marching Band, Jam Band, Rockwood Winter Percussion, Solo and Ensemble, and Home Court Advantage," Kellenberger said.
During his sophomore year of high school, Kellenberger received a contract letting him play in the Colt Cadets, an Open Class Drum and Bugle Corps group.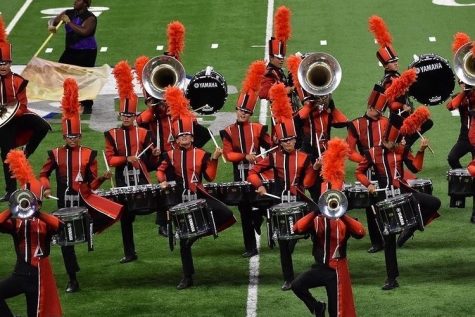 "During the summer, I traveled across America in competition against 40 other corps. It was a great introduction to the Drum Corps activity, and really instilled some important characteristics into my work ethic at a rather young age," Kellenberger said.
Being a part of Colt Cadets has given Kellenberger a different, and enjoyable experience of being able to make friends and seeing them go on into a professional marching percussion field.
Kellenberger's experience in the Colt Cadets has drawn other percussion groups to send him a contract.
"I've now been both contracted with  Freedom Percussion and Madison Scouts, and I have no doubt that if I hadn't had the instruction I did with Colt Cadets, I wouldn't be where I'm at in my marching career today," Kellenberger said.
Kellenberger said Drum Corps is like a major league sports team.
"While not exactly comparable, the easiest explanation of Drum Corps International (DCI) is the major leagues of Marching Ensembles. The corps are similar to that of sports teams in major league sports. It's common to see people sporting the merchandise of their favorite corps during competitions while cheering them on. From a member perspective, after a rigorous audition process that typically begins in October and ends in January, you can be offered a contract to perform with the Corps for a year. While competition takes place throughout the entire summer, Finals occur in early August, where the National Champion is decided," Kellenberger said.
While being contracted with multiple groups, Kellenberger has also been cut five times.
After those falls, however, Kellenberger has learned to pick himself back up and to not let it get the best of him.
"It can feel extremely underwhelming being cut, but the ability to pick yourself up and try even harder after those setbacks are what sets you apart from the crowd. It is in my opinion that almost everyone will face failure while trying to achieve a goal, so be prepared for it to happen and push past it," Kellenberger said.
Kellenberger's favorite part about the corps experience is being able to make new friends who have the same love as he does
"Performing is always a blast. The main thing that I love though is the experience and the friends I make all while getting the privilege to perform with the ensemble. During tour, you're spending all day with your fellow members for three months straight away from home. They really become a second family," Kellenberger said.
Living his dream life, Kellenberger currently attends the University of Missouri and is continuing his passion by being a part of various percussion groups. He is set to graduate in 2022.
In the future, Kellenberger hopes to continue to pursue music.
"While I plan to keep music in my life throughout its entirety, I can only march competitvely until the age of 21, the set in stone 'age-out' for DCI. So I plan to go full steam ahead for the rest of my competitve career, and then transfer into a more casual lifestyle with music. I'd love to teach marching percussion on the side going forward," Kellenberger said.
After graduating from high school, Kellenberger realized how important it is to not let drama cloud the mind. Instead, he said to just live in the moment.
"Because your class size in high school is only about 400 people, and you're stuck with them for four years more or less, the importance of cliques, drama, popularity and rumors are extremely overstated. All of it immediately dissolves after graduation," Kellenberger said.
In addition to avoiding drama, he also said students should find a passion like he found the love for music. Although it may take longer to find a subject, Kellenberger said there is a sweet reward at the end of the road once that passion is found.
"Spend time searching for the activity or subject that makes you want to put in a substantial amount of effort. While the day to day grind is a struggle, even when doing what you love, you should always be excited about the goal you're working towards," Kellenberger said.