Turning the tables
Alumni leads kitchen staffs by demonstrating talent, commitment
"I've always liked to cook at home, and I knew I wanted to be a chef. I am happy to learn by doing things. I found out that I was really good at multitasking, being on my feet and managing a team. I just felt really comfortable in the kitchen," Evy Swoboda, Class of 2010, said.
Swoboda has pursued a career in the culinary industry ever since she graduated from Lafayette. Despite not taking any Family and Consumer Science classes, she said other experiences in school, and jobs outside of school, prepared her.
"I worked at Subway and Oberweis when I was in high school, just to kind of have a job. I was captain of Escadrille, and the other major thing I was in was [the Outdoor Skill Education Program]," she said. "It was just a bunch of leadership-building skills. All of those leadership roles played a big part in managing restaurants and so it prepared me."
After leaving Lafayette, she immediately went to work.
"As soon as I graduated, I moved to the Lake of the Ozarks and started cooking at [The Lodge of Four Seasons], because they were the only people who gave me a job even though I had no experience," Swoboda said.
She attended the University of Missouri-Columbia for a year and a half after that. She initially set out to earn a dietician's degree to be a specialty chef somewhere, but felt that her passion was elsewhere.
After working at a few other places, Swoboda landed back in St. Louis working for famed chef Gerard Craft at Pastaria. There, she worked up to 70 hours a week as a sous chef, while also going to school to earn an associate's degree in hospitality, restaurant and hotel management at St. Louis Community College-Forest Park.
Despite the immense amount of stress that Swoboda was under, she said it helped her to understand how fellow employees were feeling. She knew changes needed to be made.
"It was a lot, so I just kind of did everything at once while I still had the energy. It's just a chef's life," Swoboda said. "A chef works all day long. I get to work at 10 a.m. and I leave around 11 p.m. I'm trying to change things a little bit because I've spent too many years working 70, 80, 90 hours a week."
Later, Swoboda was asked by Craft to become the executive chef of the French restaurant Brasserie by Niche, and she accepted.
But, after starting her own family with husband, Matt Swoboda, who is also an LHS graduate, and now teaches social studies at Wildwood Middle school and coaches volleyball for the Lancers,  Swoboda said she realized she needed to turn the tables for herself and for her employees.
"I really wanted to figure out how I can stay in the industry without breaking my back. At Brasserie [by Niche], as soon as I got the job, I found out I was pregnant again. This is when I decided to make a big change for everyone in my restaurant, and now we're trying to do it company wide," Swoboda said. "We all only work four days a week, four 10 hour shifts instead of that extra fifth day to give everyone a bit of work-life balance. We have full benefits for every employee, paid time off for every employee, free access to counseling or social workers to talk, all that good stuff."
"
We're turning the tables on old-school restaurant style, that's the first step."
— Evy Swoboda, Class of 2010
For Jonathan Duffe, the sous chef at Brasserie, making these changes might not have been a revolutionary idea, but it was one that made a big impact.
"When she told me about it, I was like 'I've never heard anything like this before'," Duffe said. "Doing those things goes a long way, which is showing your staff that you care about their life outside of the restaurant and that you understand it's difficult."
Duffe had worked with Swoboda at Pastaria before working with her at Brasserie by Niche. It was there he came to admire her talent and leadership in the kitchen, and even though he was at Brasserie by Niche before Swoboda, he's happy to have her leading in the kitchen.
"It seems obvious that you would assume anyone who's a head chef of any restaurant can cook delicious food, but I think that Evy has some strange, natural talent for being able to make something that's really delicious no matter what situation you put her into," Duffe said. "What makes Brasserie [by Niche] more special than it already was is that she is so good at being a team leader. She's able to know people's strengths and weaknesses and put them in positions to succeed. It's so much more important than even just the cooking part as a chef. She's so good at managing people, including their positions to make the restaurant better. I think that's why the restaurant has grown so much since she's gotten here."
The hard work that Swoboda contributed became evident as she was a semifinalist for the James Beard award. The award recognizes "exceptional talent and achievement in the culinary arts, hospitality, media, and broader food system, as well as a demonstrated commitment to racial and gender equity, community, sustainability and a culture where all can thrive." Swoboda was nominated for the Best Chef award for the Midwest. The pastry chef at Brasserie by Niche, Elise Mensing, was nominated for Outstanding Pastry Chef.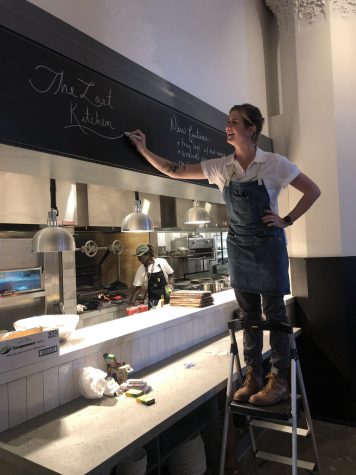 Although neither moved onto the final round, to be nominated for the award was enough for Swoboda, and she's thankful for the support and recognition of Brasserie.
"I was really surprised that I was recognized," Swoboda said. "It's definitely an honor working for Gerard Craft, and he gives me so much leeway in the restaurant that I feel like it is my own little team. I was very excited, and I was almost more excited for my pastry chef because she's been there for a long time and definitely deserves some recognition."
Even though she said she still has a long way to go in her culinary career, Swoboda is proud of the work she has done and encourages others to find their team and take on whatever challenges may come their way.
"No step is too little. People laugh that I got a job at Subway when I was 16, but I wanted to get into any business. I knew I wanted to be a chef," she said. "You think you're not capable of doing some things, but you have to sort of fake it until you make it because you're not going to get hired otherwise. You know more than you think you do, and you can always learn from the people around you. I'll always hire the staff around me to be better than myself because it's the only way for me to keep learning in the position that I'm in."