Made In Bollywood
Chelikavada starts dance team to bring diversity, teach culture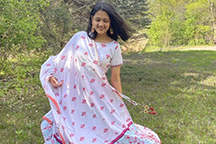 The cultures of India and America are fusing together through Bollywood dancing, a type of dance that combines the traditional Bollywood style with modern-day hip-hop and jazz styles. This style was first introduced through Bollywood films in the 20th century and has carried through to today. Performers wear colorful costumes and jewels throughout their performances.
This cultural fusion is being brought to Lafayette by the new Bollywood Dance Team, started by sophomore Adwyta Chelikavada. Since she was a kid, she has enjoyed dancing. She grew up surrounded by the Bollywood style and felt the need to bring it to LHS.
"I've loved dancing since a very young age. I feel like other schools, specifically out of Missouri, have a Bollywood Dance Club. I noticed there wasn't much diversity in dance here, so I thought I would bring it forward," Chelikavada said. 
Chelikavada plans to have the club meet every Friday, and her goal is to teach members how to dance in the Bollywood style and prepare them for performances. In addition, Chelikavada plans to discuss Indian culture with the team. 
Once the club has a firm foundation, Chelikavada hopes to perform with the team outside of the time spent in the club to better raise awareness about the style of dance and culture.
"As of right now, the only thing we [want to have planned] is performing at pep assemblies and having an end of the year showcase event. I'm looking forward to that," Chelikavada said.
Language arts teacher Tracy Gladden is the club's sponsor. 
"[Adwyta] came in and shared the idea that she wanted to start an Indian dance team and if I'd be willing [to sponsor it]. It kind of caught me off guard because I didn't know her at all. Apparently, I taught her sister, Akshita, creative writing a few years ago," Gladden said. "It just happened to be the right time. I don't know anything about it at all, so for me, I'm willing to try something new."
Gladden is interested in discovering new cultures and expanding her knowledge of Bollywood dancing. 
"I'm interested in hearing the music and seeing the costumes and the colors and they're going to share things about the culture and even food. I'm just interested to learn all that because, like I said, I know nothing," Gladden said. 
 Chelikavada knew Gladden would be the right sponsor for the club due to her desire to expand diversity at LHS and learn about the culture. 
"She's interested in various cultures. She's very fond of diversity, so I thought she would enjoy being in a group like this," Chelikavada said.
In addition to expanding cultural diversity, Gladden is interested in encouraging movement and physical activity. As a yoga instructor, Gladden understands that motion and activity are important for muscle growth and development.
"I want to encourage movement. Dance will help develop muscles, tone the body, improve circulation, improve posture, balance, coordination and promote greater flexibility. I want to help kids stay active," Gladden said.
Chelikavada's friend, sophomore Ella Fusco, has joined the club in hopes of learning more about the culture and supporting her friend. She is excited to introduce this style of dance to LHS with her friend. 
"Nobody knows what to expect, and neither do we, so I think it's kind of cool with the mystery to it," Fusco said. "It's exciting because, even if this year's season isn't necessarily the best ever, there are no expectations either, so we can always work from it and get better."
Chelikavada is excited to begin this journey with the Bollywood Dance Team and hopes that it will last even after she leaves LHS. 
"This is the first time any type of Indian diversity has happened, specifically showcasing it, in this type of dance form [at LHS]. I love dancing, so showing that and with it being the first time this has ever happened at Lafayette [is really exciting]," Chelikavada said.