Out and About: Mauhaus Cat Cafe & Lounge provides authentic animal connection
Whenever people think of adopting animals they usually think of shelters or the Petco down the road, but there is another unique option. Started by Dana Huth and her husband Ben Triola, The Mauhaus Cat Cafe & Lounge is the first cat cafe in St. Louis. Huth said the idea started with a Christmas trip overseas. 
"I had seen cat cafes in other cities and I'd never actually been to one until my husband and I went to Thailand for Christmas in 2014. When we were there I was like 'there are cat cafes literally everywhere we have to go,' so we went to several, and as we were sitting there on Christmas Day in a cat cafe I was just like we have to have this at home. I don't want people to have to go to other countries to get to experience this," Huth said.
Originally opening in November 2016 after two years of prep work, The Mauhaus averages 100 adoptions each year and hit their 500th adoption in October. The cafe houses up to 18 cats at a time, and each cat is a rescue that they acquire from their partners at Stray Haven. 
"It's kind of a way to have a lot of cats without actually having a lot of cats. It's incredible to be a part of their story and to meet them and to see them come out of their shell," Huth said. "The shy cats are my absolute favorite because they will come here so scared for whatever reason, they have difficult stories, but they come here and then they open up and they find someone, and then we get pictures when they are comfortable at home of them just living their lives and we got to be a part of that."
Cats are known to be particular creatures, so it can be difficult to know their true nature when they are in a shelter. Jasmine Hayes, a friend of Huth and Triola, believes there is an immense difference in the way that the cats are able to live in the cafe. 
"When you go to Mauhaus, the cats are typically socialized, already spayed or neutered and they typically have all their shots. The socialization is good because it means the cats are already used to humans. When you adopt you have to go through the process of getting the cat accustomed to an environment which can be kind of difficult. You have some cats that don't like children, and you have some cats who don't like men, or they don't like loud environments, so these cats get a chance to be exposed to all of that so their temperaments are a little different from what I've seen," Hayes said.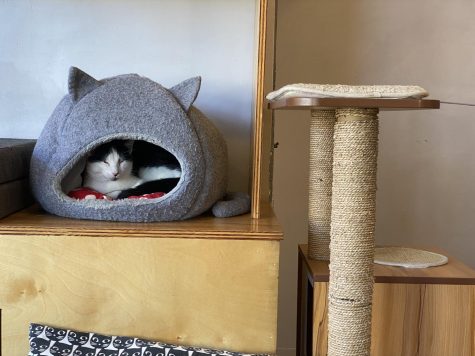 Hayes has personal experience with the adoption process at The Mauhaus as that's where she adopted her own two cats, Roman and Mars. Through spending time with them at the cafe, Hayes decided to bring them to their forever home. 
"When you go into the cafe it's a very nice atmosphere and it's very well organized. Along with all the different types of coffee and treats there they have a system to make sure that you and the cats stay safe. They have a system that when you walk into the cafe there's two doors and they'll warn you and give you all the information you need to interact with these cats and once you know and you're educated, you go in and you sit down and you can just relax," Hayes said. 
Along with being a unique addition to The St. Louis community, The Mauhaus is also a unique place to work, as it doubles as a coffee house as well as a place to play with cats. After working at the cafe as a barista, Katelyn Blessing has found a home at The Mauhaus. 
"I love seeing little kids get really excited about the cats, people are all really sweet for the most part, and I also just really enjoy making coffee and being a barista. We have a really healthy work environment, everyone really cares for each other. We also make everything in house. Sometimes I have to make syrups and things like that, we make everything from scratch, which I really like about working here, it makes it feel really special," Blessing said.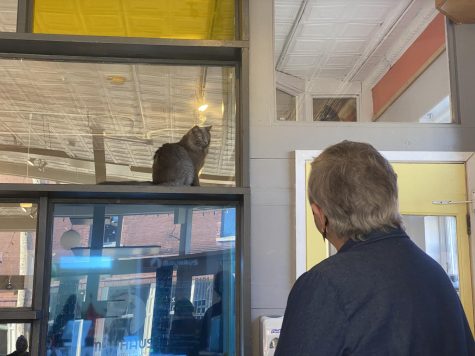 Customers also can't help but notice the environment in the cafe.
"I would recommend the average person to just go, even if you have a concern about cats or cats aren't really your thing, I would go. I think it's a very positive introduction to learning more about cats and pet ownership in general. The people who work at the cafe are knowledgeable and they truly know what they're talking about and if you have any questions they'll help you however they can, and I appreciate that type of professionalism. I can say that the people there really actually care, and that makes me feel good on the inside," Hayes said. 
With 100 adoptions each year, cats in The Mauhaus rarely stay for long, but they make lasting impressions on those who take care of them. 
"You really get attached to the cats, even working on the cafe side. You really just want to take all the cats home and it's really bittersweet seeing them get adopted. Sometimes it's a little heartbreaking seeing them go," Blessing said. 
One of Huth's main hopes is that the Mauhaus can serve as an educational experience for people who may not be familiar with friendly cats, or cats in general. With the high stigma around cats, she hopes her cafe will do it's part to change some minds. 
"I wish that people who don't have experience with cats or have this perception of cats being mean would actually give them a chance. We have so many people that are dragged here by family members and they're like 'I don't really like cats,' and then they come to the cat cafe and end up having a cat sitting on their lap and they're obviously having a good time. I think people have one bad experience with one bad cat early in their childhood, and it ruins them to cats forever, and it's not a very fair assessment because cats are amazing," Huth said. 
The Mauhaus Cat Cafe & Lounge is located at 3101 Sutton Blvd. in Maplewood. They are open Wednesday through Sunday From 9 a.m. to 8 p.m. They take both reservations and walk-ins and customers can even book the entire cafe for a party. Reservations are $11 per person 13 and older and $6 per person 12-2. Reservations are for 1 hour or 30 minutes. This is not a private reservation and other guests may be in the lounge as well. More information is available on their website.