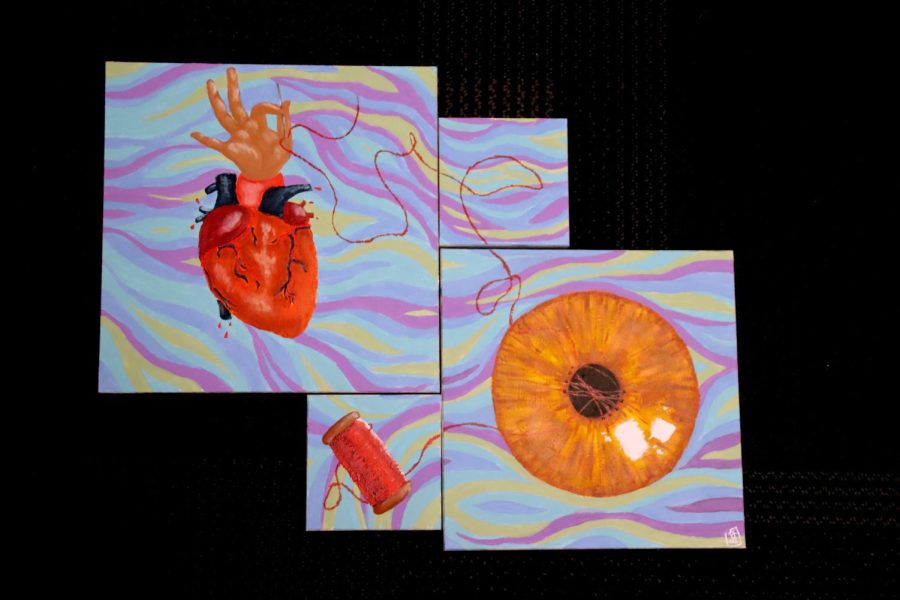 Samantha Haney
For as long as she can remember, sophomore Elizabeth Tremper has had a strong calling towards art. 
"Honestly one of my first memories is where I was drawing at the kitchen table. It's just always been there for me," Tremper said. "I've just always been doing art. I don't really know why I started, I just did."
Tremper likes painting, drawing, digital art, cross-stitching, sewing, needle-felting and pretty much every other medium of art. Not only do her pieces range in medium, but also a variety of different subjects, from realistic landscapes to abstract symbolic pieces. Tremper loves to experiment with all different mediums of art, but her favorite is painting.
"It's really fun. I use up so much paint it's a problem. I layer paint so much until eventually I'm not even painting on the canvas, I'm [instead] putting paint on paint on paint," Tremper said. 
Even in elementary school, Tremper took around ten art classes because she tested into a special art Center for Creative Learning (CCL) program. She explained how she had one art class for CCL every year, then had one at school allowing her to take double art classes. 
Now, as a sophomore in high school, not much has changed. In 8th Grade, Tremper took Art Fundamentals, so she was able to take Painting 1 and Drawing 1 as a freshman. This year, she's currently taking Graphic Design 1 and will be in Painting 2 second semester. She then plans on taking AP Art Studio 1 as a junior and AP Art Studio 2 as a senior.
Tremper plans on pursuing art as a career, although she isn't sure exactly what type of career yet. She wants to major in graphic design in college, and possibly get a double major in something more wanted in the workforce.
"My all-time dream would be to work on like a Marvel movie. Like some CGI [computer-generated imagery] or maybe helping with costume designing or something. Maybe something with programming in it, or game development would be cool too," Tremper said. "I'm pretty flexible, but I need to work with something that has to do with art."
Along with all her other art pieces, Tremper is currently working on a graphic novel. After thinking about starting it for nearly two years, she's recently started to work on her character design, plot and world-building. She hopes to one day publish the novel.
"I have two different mind maps, one of them is for the relationships between each character and the other one is literally just everything else. It's huge," Tremper said. 
While an artist's perception of their purpose as an artist may differ, Tremper said artists play a large role in everyone's daily lives because art is everywhere, although this can often be forgotten. 
"[Artists] are important, I think they are underrated. Let's be honest, someone designed every single thing in this school, that takes art. It makes me so mad when people say 'oh art isn't really important, art isn't a real job,'" Tremper said. "Art is a fundamental part of society. I feel like art can help people mentally. Like creating it and also looking at it. It's almost like a language. It's another way to express things and ideas. It makes things less boring and the world more interesting."
Even if Tremper currently enjoys art as a hobby, it means so much more to her.
"I have made some really cringey and angsty stuff, where I'm like 'ok I'm going to burn that,' but art is an outlet for me and it's just very calming," Tremper said. "For me, it's my life."