Take it From Me: Amy White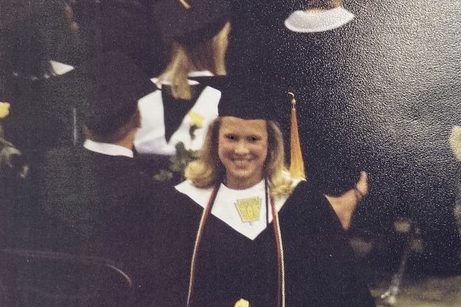 "My senior year, when Jean Peters jumped on a desk in my [language arts] class and acted out a scene from Beowulf, I was sitting there thinking, 'this woman is making British literature interesting and fun and I'm engaged and listening to her. She, as a teacher, made the curriculum really fun. I was very close with my Escadrille coach and I had awesome teachers that showed me that [they] believed in me and wanted to know me as a person," language arts teacher Amy White said.
White is an LHS alumni from the Class of 2003. She now teaches at her alma mater and is an advisor for Student Council.
White enjoyed high school while it lasted by being involved in multiple clubs and activities.
"I was on Escadrille for all four years and managed our varsity baseball team. I was a member of senior advisory, Care Team, Committee of 520, Fellowship of Christian Athletes, Key Club, National Honor Society, OSEP (Outdoor Student Education Program), Renaissance Steering Committee and Senior Women."
After graduating 18 years ago, White now regrets how much she focused on high school drama.
"I let myself get wrapped up in friend drama, but I remember getting my feelings hurt or stuff like that and I regret spending so much energy on things like that because I still talk to people on a regular basis that I was friends with in high school."
Throughout her years in high school, White learned some challenges and some advice to give to students.
"I would remind [students] that while high school is extremely important in setting up whatever you want to do in the future, it's very important to remain serious and stay focused, it's also not the end all be all. There is life after Lafayette and if high school is a struggle, there is life beyond this building and this community. And while I love this life and community I came back to it. Students' worth is not defined within these walls."