Out and About: Pinspiration offers easy way to create
Samantha Haney, News Multimedia Editor / Legend Social Media Manager
November 5, 2021
When a person walks into Pinspiration, there's a faint smell of paint in the air. It's colorful and open, with artwork lining the walls. All of this connects to a feeling of creative energy in the store.
The main goal of the store is to allow for creativity and to help people do different Do-It-Yourself (DIY) crafts. In the store, there are multiple demonstrations and ideas displayed. However, customers do not have to stick to a pre-planned project. Options for projects range from paintings to personalized home décor to any other creative project. Customers can also have the choice to make something completely on their own or if they make a reservation, they can participate in a workshop. Class prices may vary depending on the length of the workshop and the materials.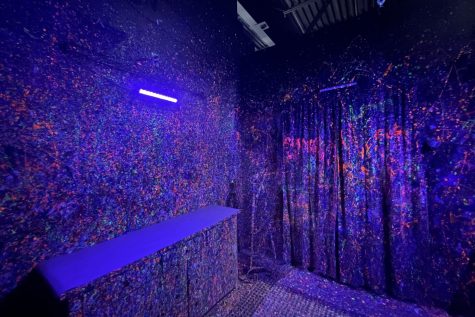 There is also something called the Splatter Room.  This is a place covered floor to ceiling in colorful paint where customers can go to splatter paint on the walls. The price is $18 per person, but for an added cost, they will also turn on black lights.
The Splatter Room could be an individual activity or it could be a group activity with friends. For parties, they will provide food from the cafe inside the room or allow customers to bring their own.
The overall environment is bright and calm, and Pinspiration offers experiences for people of all ages. There are multiple franchise locations throughout the country, with one located at 164 Chesterfield Commons East Road.