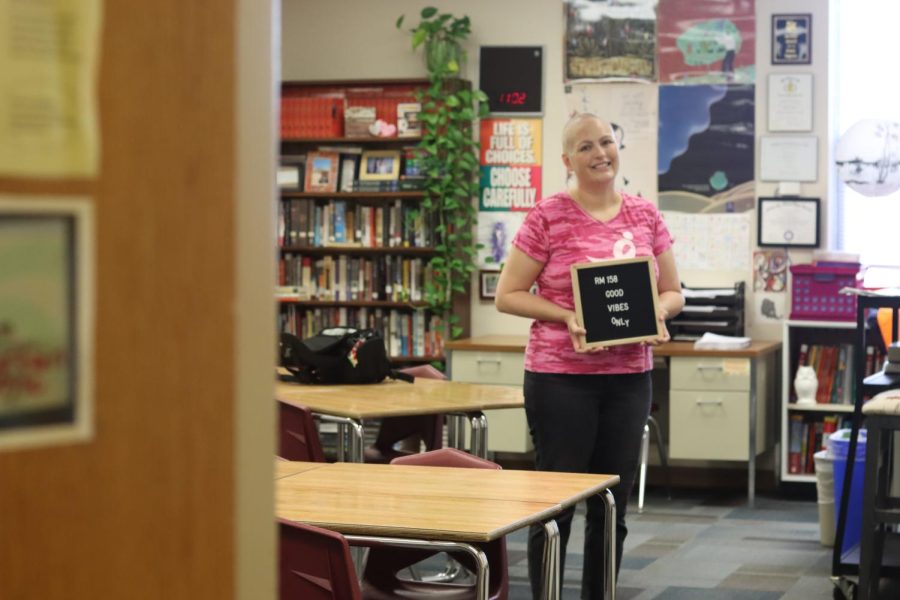 Makayla Archambeault
"I've become the person that I used to be scared of. The number one cause of cancer is having already had cancer. I knew that I would have cancer again later on in life. I just did not expect this recurrence," language arts teacher Jenny Ingram said. 
In early October 2015, Class of 1998 graduate, Ingram, was diagnosed with Stage Two Invasive Ductal Carcinoma. In July of this year, the Breast Cancer resurfaced as Stage Four.
"My primary care doctor called [after my appointment] and she was like, 'Hey, is it a good time to talk?' and I knew. I forget what adjectives she used; she said it looks 'troublesome' or whatever," she said. "The scan showed activity in the lymph nodes on the lungs and then I had the bone scan and it showed tumors in the bones and that's what really scared me. Apparently, you have a better prognosis if it's just in your bones as opposed to visceral organs like the liver or the lungs. For me, it was seeing that it was in my bones that was like 'Oh my God.' What I thought were swollen lymph nodes were actually tumors. I was not one of those people that worried about a recurrence."
When her friends and family heard the news, they were shocked and upset.
"The nightmare scenario that it would come back one day as Stage Four was something that we were all kind of dreading, so the fact that we're living that now is scary. The thing that makes me feel good is that she's just so strong; nothing really knocks her down. She gives us strength. She's always smiling, she loves her job and she stays positive. It makes it really easy to help cheer her on in this," Class of 2000 graduate and Ingram's sister, Jessica Prosperi, said.
Initially, when Ingram learned about her cancer resurfacing, she was surprised because her bloodwork for the past five years didn't show any signs of tumor growth. 
After a patient finishes chemotherapy, they typically attend regular six-month appointments to check blood work and signs of resurfacing. In March 2021, Ingram had her last six-month appointment, which declared her officially five years "cancer free."
In June 2021, Ingram scheduled another visit after experiencing mild pain and swelling in her left armpit, which concerned her since the cancer was in her left breast originally, in addition to increasing pain in her elbow that was broken in a separate incident. After voicing her concern, she was scheduled for a CT scan that confirmed her worries.
Ingram found that being diagnosed right at the start of summer was a blessing to allow her time to recover but also left her alone with her thoughts often.
"When you're first diagnosed with a recurrence, it's just so many doctor's appointments. During the summer I could never sleep through the night and it's not like I was waking up and panicking, I was just awake. I think it's because I just didn't have anything going on during the day. But now being back at work and having a routine, I sleep through the night, so that's great. I'm not just home thinking about things that could happen; I'm back at work. I'm back to having a regular life as opposed to just sitting around and thinking about the what-ifs. Going back to work has made a huge difference," she said.
Among other language arts classes, Ingram teaches Advanced Language Arts Research and Presentation (ALARP). The class is unique to the Rockwood School District and consists of Honors Language Arts classwork in addition to two semester-long research projects and presentations throughout the year. Freshman Cian Obrien is enrolled in Ingram's ALARP I class and believes that she provides an environment for her students to effectively learn but also laugh.
"She's very much no-nonsense, but there are times when she likes to have fun with her students where she'll put a meme or a joke into her presentation to make sure we aren't over absorbed [in the class] and still having a measure of fun," Obrien said. "She fosters a sense of community. My whole class is very close with each other."
After a month of chemotherapy following her diagnosis in July, Ingram switched to a trial treatment of targeted therapy.
"The metaphor that I created for cancer treatment is chemo is sort of like the scorched earth approach. There's the military tactic of scorched earth: when you're attacking the enemy, you just burn everything down, good guys and bad guys. You just destroy all of it so that there's no potential bad there," Ingram said. "Chemo just wreaks havoc on your body. It kills bad cells, and it kills good cells. The targeted therapy that I'm doing now targets the proteins and hormones that feed my cancer cells. I compare that to a sniper. They're not going in and just burning everything down, they're going in to just kill a protein or just kill a hormone cell or hormone. When I finished [a month of chemo], I didn't see any changes in tumors or in the bones and the lungs and the lymph nodes. But after eight weeks of these two trial meds, I've had a significant decrease in the size of the tumors." 
Ingram has found that with this targeted treatment, she's had a different experience than her initial diagnosis and treatment.
"I was originally diagnosed in October 2016, and the first chemo I had was a real heavy hitter. I just felt like crap in December. Between October and December, that was like the real heavy hitting chemo because they want to go in there and just hit it hard. I remember there was a day in December when I was helping students review for the final exam, and I was so tired just passing back work that I had to sit down in my chair. I was out of breath. And then we were going over a little review sheet, and I was so winded just talking. That night, I just laid in bed and was so tired. I've never felt that tired in my entire life," she said.
During her initial treatment, she actually felt a lot better as she started to psychically look worse.
"In movies and television shows, chemo patients were just sick all the time and puking. I didn't experience that. By the time I started the January to March round of chemo, that wasn't as hard on my system so things got a little bit better. I looked worse because I had no body hair. I think I can pull off bald; I like bald and you just kind of look like a punk rocker. But then when you lose your eyebrows and lashes, then you look like a cancer patient. I just looked really sick even though I felt better. My fingernails got yellow and brittle. They never fell off, but I did have the majority of my big toenail fall off," she said.
During her treatment this summer, Ingram completed one month of chemo before beginning her targeted treatment for her hormone-based cancer.
"Anybody can go online and look at chances for survival for stage four cancer. I have a 72% chance of dying within five years, but the medication that I'm on right now wasn't even around when those statistics came out. When I talk about it, I get emotional. For the most part, though, I really don't worry," Ingram said.