Out and About: Rock Hollow Trail
Local hiking trail has long, storied history
Rock Hollow Trail, also known as "Zombie Road", is located just 10 minutes from Lafayette. The trailhead rests next to Ridge Meadows Elementary off of Ridge Road and can also be accessed 8/10 of a mile from the Al Foster Memorial Trailhead. 
The paved 2.3 mile trail is surrounded by woods, small hills and a creek that makes you feel like you're hours away from the suburbs. When you start at the Rock Hollow trailhead, it's a downhill trek until you reach the Al Foster Memorial trail. There are multiple memorial benches along the way which provide a peaceful place to stop and rest. 13 wooden bridges are scattered throughout the path and serve as mile markers. 
However, Rock Hollow trail is not only known for its beauty. The path has a rich history that has drawn the attention of many for generations.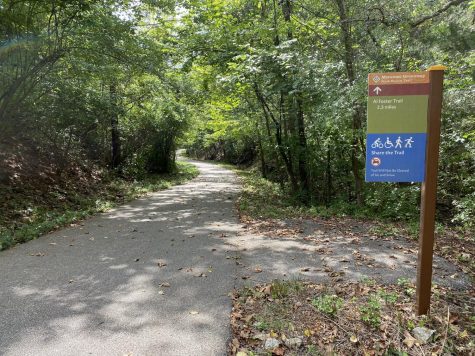 In previous decades, the trail was once a hangout spot for teenagers until it was shut down to pave and replace the gravel and dirt that once comprised the trail. During the 50's, teenagers gave it the nickname "Zombie Road" because of its compelling history and the paranormal rumors and sights that had been buzzing around. 
The trail was originally built in the 1860s to provide a way to the Meramec River and train tracks. It was used during the Civil War, and multiple online sources such as dangerousroads.org tell of people seeing ghosts of American Indians, children and Confederate Soldiers. 
In 2007, a documentary, Children of the Grave, aired and showed proof of the ghosts, or "shadow people", that haunted the trail at night. As a result, the trail gained a huge amount of popularity and attracted teenagers by the hundreds.
Although it is said to be a thrill to experience after sundown, the trail closes after dark and those who are caught trespassing can be fined up to $1,000. Nevertheless, Rock Hollow trail is a perfect place to escape from the suburbs and can be exciting to explore.