Last Time I… dressed up a cat
Freshman Josie Alspaw got her cat Bob early in the age of quarantine. Over the year and a half of having her cat, Alspaw has dressed her up in numerous outfits, each more intricate than the last.
When Alspaw had a lot of time on her hands with the country-wide lockdown in the spring of 2020, she and her family decided to get a cat to keep her company.
"She's a quarantine kitty," Alspaw said. "I was a bit lonely because all of my brothers have been in college for a while and I was by myself a lot."
Despite the cat being a female, Alspaw named the domestic short-haired kitten Bob, due to her bobcat-like appearance.
When Alspaw decided she wanted to dress Bob up, she knew it was best to start young.
"She's only a year and a half old, and I wanted to do it when she was younger so that way she would like it when she's older. I wanted to do it because you can normally do more stuff with dogs, but Bob's a cat so she gets more annoyed easily. I just figured if I did it when she was little, she'd be fine," she said.
The latest in Bob's ensemble was in a stereotypical Mexican costume that Alspaw found in a TJ Maxx in August.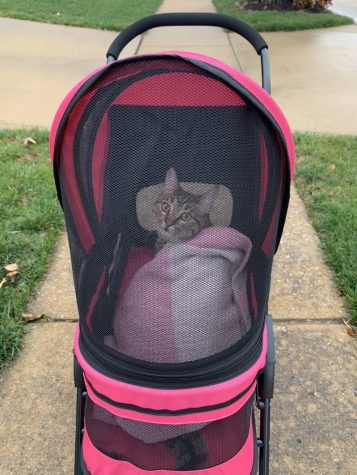 "She had her sombrero on with little pom-poms hanging off of it and then she had her poncho on that had rainbow colors,"Alspaw said. "My mom and I were looking for back-to-school outfits, and I ended up in the cat section. After I went to the cat section, there was a cute outfit, I bought it for like $10, and I went home and she loved it."
Other outfits include a Mrs. Claws, a ladybug, a Valentine's Day robe and Alspaw's personal favorite, a gnome costume.
"Her legs are its legs, but it also has little arms sticking out with fake hands. When she walks around the hands bobble back and forth, and she also gets a little beard when she's wearing it," Alspaw said.
Spending time with Bob and dressing her up has helped brighten up Alspaw's last year and a half, and she thinks other people should try it as well.
"I definitely would recommend that people dress up their cats. You do end up spending more money for pretty small outfits, but it's worth it," Alspaw said. "It really has given me too much joy in general. She looks annoyed, but you can tell that she's happy because she likes to wear it and doesn't like to take it off. It still just brings me a lot of joy."