Out and About: Tropical Sno sells great variety of quality summer treats
The summer heat of the midwest is quickly approaching and other than ice cream, there is no better treat to help beat the heat than a snow cone. Where Manchester Road meets Highway 141, there is a snow cone vendor called Tropical Sno. 
The first Tropical Sno was founded in Provo, Utah. It's popularity and success motivated the company to expand their horizons. The company made it their goal to inspire and help others  start their own Tropical Sno locations. They now have locations all over the United States and, according to their website, in 30 countries around the world.
With one vendor in Ballwin and another in the city of St. Louis, there are not many nearby. At the location in Ballwin, the small shop sits in an empty parking lot near other businesses. In front of the building are a few picnic tables covered by a canopy that provide shade for its customers.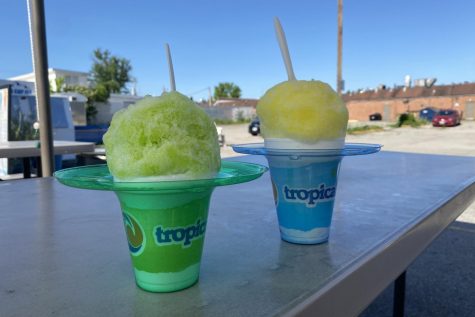 Including roughly 40 flavors to choose from, there is something for everyone. Tropical Sno lets customers mix up to three flavors in one snow cone, as well as multiple concoctions available to order. One of their concoctions, called Sunrise, includes the flavors cherry, lemon and orange while another, known as Rock N' Roll, contains grape, blueberry and blue raspberry flavoring. 
Their sizes come in small, medium or large and are priced from $3.50-$4.50. 
In addition to all the flavors to choose from, they also sell add-ons for an additional price ranging up to 50 cents. The add-ons include banana cream, coconut cream, condensed milk, nerds, sour spray and vanilla cream. 
There was quick customer service which provided a great experience. The highlight, however, was the fullness of the snow cone. It was packed high above the cup and was filled with more than enough flavor. Additionally, each cup had a rim around the top that would act as a barrier to prevent potential spills on clothes.
The Manchester location is open from 2-10 p.m. every day and can be found at 126 Old Meramec Station Road in Ballwin.