Kick the competition: 10 sites to help student athletes find scholarships
NCAA Division I and II schools provide more the $3.6 billion in athletic scholarships annually to more than 180,000 student-athletes. Even though colleges and universities are the most sought-out for athletic scholarships, there are many other organizations and businesses that reward student-athletes. Here are 10 links that can help student-athletes find their right fit.
RecruitChute not only provides athletes with the resources to find a school that is the right fit for them but also to connect and communicate directly with college coaches.
Check it out: www.info.recruitchute.io/
BeRecruited is simple and free website that allows student athletes to create an online athletic recruiting profile to maximize college recruiting exposure and sports scholarship opportunities.
Check it out: new.berecruited.com/
NCSA is one of the largest and most successful college athletic recruiting networks for student athletes and with a 4.5 star rating. Being that it is a reliable resource for athletes, students must pay for a membership to maximize their profile usage.
Check it out: www.ncsasports.org
Custom College Sports Recruiting is an athletic recruiting knowledge base to help athletes better understand what the recruiting process is all about, what it takes and what it means to commit to a team. Here unknown and unrecruited athletes can have a chance to showcase their skills and can get exposure to college coaches.
Check it out: customcollegerecruiting.com
More than 2 million athletes have used CaptainU Athlete to follow their dreams of making a great college team. The process is simple, if you do not already have a profile, create an account and explore the subscription plans available and pick which one is best for you.
Check it out: stacksports.captainu.com/athlete/
College Soccer Exposure ID Camps are open to players ages 14-19 (for boys) and 13-19 (for girls). They offer separate events for girls and boys.
Check it out: collegesoccerexposure.com
NSR provides dependable service for prospects, families and college coaches. Its promotional efforts include anything from personalized pamphlets to videos and websites. Current prices for these services range from $900 to $2,000.
Check it out: www.nsr-inc.com
SchollyMe is a free mobile app used by sports fans, athletes and college coaches. In-app products cost anywhere between $10 and $100 that are available to all users.
Check it out: myscholly.com
With DraftCard partners with NCSA to help young athletes can begin building their mobile presence and exponentially raise their chances of being discovered.
Check it out: draftcard.com/category/recruitment/
On Hudi, athletes can create and upload high-quality film, drills and games to analyze and share. Once team administrators send their athletes a recruiting package, athletes can browse their teams profile, create notes, add drawings and telestrations and playback recorded games.
Check it out: www.hudi.com/support/v3/highlights-recruiting
About the Writer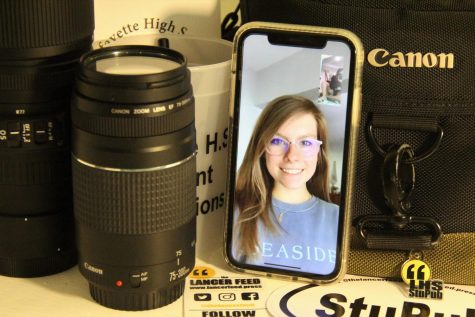 Hannah Fitts, Staff Reporter
Hannah Fitts is a junior, and this is her third year on the news production staff. Outside of the classroom, she enjoys staying active and plays for both the Lafayette soccer and racquetball teams. She can be contacted at [email protected]o.org.