Out and About: Walt Disney World's Star Wars: Galaxy's Edge is worth a visit, encourages safe, fun environment
I didn't quite know what to expect when I visited the new land at Walt Disney World's Hollywood Studios, Galaxy's Edge. Spoiler alert: it was way better than I expected!
From my point of view, it was a dream come true for Star Wars fans. The attention to detail was excellent and the cast members were very friendly; one even asked me if I was allied with the First Order. To which, I reassured him I was, since on a previous ride, Star Tours-The Adventure Continues, I was chosen to be the rebel spy aboard. Sticking to character, he thanked me for my allegiance.
Maneuvering our way through the crowds and into the shops felt like walking on the planet Tatooine or Jakku. Of course, we weren't walking through sand, but the exterior of each shop with the sights and sounds felt familiar from the films.
The entire park was open, lively and made me feel like I was transported to a different place entirely. Even the small kiosks of pins, toys and clothing were hardly a distraction from all of the stationary droids, starships and occasionally passing First Order Troopers.
We also got to see Rey, Chewbacca and Kylo Ren and sit in the Millennium Falcon herself!
Finding a place to eat was not an easy task, but we eventually were able to make a dining reservation at Ronto Roasters, where we ordered their specialty Ronto Wraps. We sat down to enjoy our lunch and surrounded by life-size animatronics and the theme music, we definitely got a real taste of Batuu.
Disney's continuing creativity and work with amusement rides never fails to impress. The cherry on top of the experience had to be the sporadic sound of a TIE fighter or starship passing overhead. Every time I heard the familiar roar, I had to look up. 
However, as a minor criticism, there was a lack of kinetics. While you'll hear plenty of activity to evoke the feel of a galactic outpost (such as ships taking off and landing) you don't actually see any of it. This is perfectly understandable, but I feel like the energy of the outpost would be that much livelier if it had a PeopleMover-like attraction moving around.
Nevertheless, the experience was truly unforgettable, jaw-dropping and, for the most part, stress-free. My mom found a good deal at the Swan and Dolphin, got a room for a few nights, and we planned to venture Hollywood Studios the next day, which was walking distance, or a quick ferry boat ride, from the hotel.
Disney has gone above and beyond to make guests feel comfortable and safe while on park property with social distancing and cleaning measures in place. Disney has really pulled out all of the stops to try to minimize the spreading of COVID-19 as much as possible. 
Guests are required to reserve their spot at a park for a specific day ahead of time as they are limiting capacity, and park-hopping is prohibited.
Growing up, park-hoping and fitting in the most we could possibly fit into our day used to be what my family did. Not being able to do that was a strange adjustment, but after spending my whole day at one park, I was able to fully admire and appreciate the smallest of features. Not to mention, we could take our time exploring the resort and the blockbuster new land, without the rush. 
Looking back on my new experience, I stand by my original assessment that Star Wars: Galaxy's Edge is a land like no other. It's marvelous, domineering, intimate and detailed. If this isn't the best-themed environment at Disney, it's certainly in the top five. Even if you're not a Star Wars fan, enter the park with an open mind and don't shy away from experiencing all it has to offer, which is everything you could ever want from a Disney park.
About the Contributor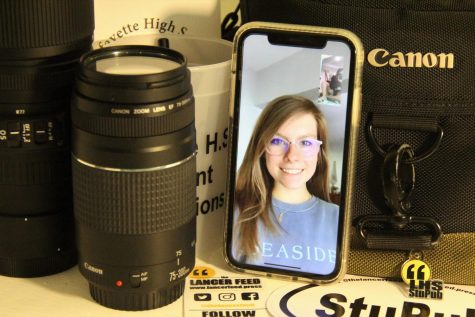 Hannah Fitts, Staff Reporter
Hannah Fitts is a junior, and this is her third year on the news production staff. Outside of the classroom, she enjoys staying active and plays for both the Lafayette soccer and racquetball teams. She can be contacted at [email protected]