That Was My Jam: Nathan Willard
Film buff also proves his classic taste in music with his selections from high school
Every week, The Lancer Feed will feature one Lafayette staff member and present a playlist made up of some of their favorite musical memories from high school.
Nathan Willard, Language Arts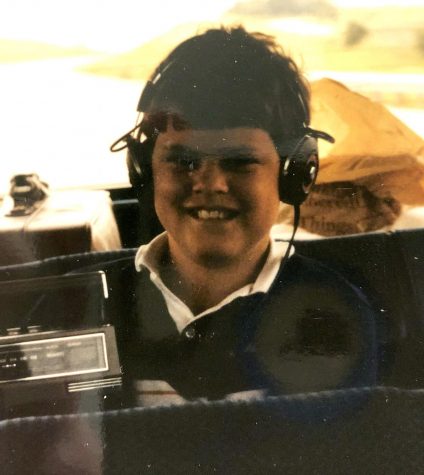 What is a song that reminds you most of a special event from when you here in high school?
The Heat is On  by Glenn Frey When the Cardinals were in the race for the World Series, that song was played everywhere with highlights of the season (from the legendary Jack Buck) cut throughout the song.  It was St. Louis in the 80s–that and Kool and the Gang's Celebration were  mainstays for Cardinal fans of the day. 
What song seemed to always be played at every school dance or pep assembly at your school and what did you think of it?
Jungle Love by Morris Day and the Time. It was awesome and made all the more funny and more enjoyable if you saw the Prince movie, Purple Rain.
What is a song that reminds you of a great time from high school?
For my senior spring break, my friends and I ditched Mexico, Florida, and the like and went to Oklahoma City to stay on the farm of one of my friend's Dad.  It was a great week of trap shooting, playing games, carousing…and the soundtrack to the week of fun was Tone-Loc's Loc-ed After Dark.  When I hear any of those songs, I always find myself laughing and smiling at the memories.
What song was like your personal anthem when you were in high school?
Another Brick in the Wall, Parts 1, 2 and 3 by Pink Floyd.  The album, The Wall, was a revelation to me when I discovered it in high school.  It had and continues to have a profound impact on me and who I am to this day, some nearly 40 years later. 
What song did you blast in your car after a good day? 
Yello Oh Yeah
What favorite song from high school do you still listen to pretty often?
Overkill by Men at Work, and the acoustic version by Colin Hay. The older I get, the more powerful and haunting that song becomes.
Name your TOP FIVE favorite songs from high school.
Hold Me Fleetwood Mac
Driven to Tears The Police
Head over Heels Tears for Fears
Owner of a Lonely Heart Yes
Computer Blue  Prince and the Revolution