Dederers find positive family experiences amidst COVID-19 quarantine
On March 13, Richard and Jessica Dederer along with their two kids, senior Jake and LHS graduate Alexandra, arrived in Costa Rica for their Spring Break vacation, knowing that when they returned, they would not be leaving their home for at least 14 days due to the risk of contamination of COVID-19.
"[Before the trip] we discussed the pros and cons of traveling out of the country and worst-case scenarios. We agreed before we left town that we would self-quarantine when we returned home," Jessica said.
In addition to their own quarantine, the family took into account those around them.
"We considered the health of others, co-workers, neighbors, friends and family, not just ourselves," Richard said.
The Dederers also took different precautions before, during and after their trip.
"In preparation for the virus, we all traveled with Clorox wipes and hand sanitizer to wipe everything down. Once we arrived home, we quickly ordered groceries to be delivered from Dierbergs and wiped down all of our belongings," Jake said.
Since the Dederers have been home, they have found many outlets for their energy within the confines of their house.
"I have been running and reading a lot. I am also starting to paint a table this weekend, really anything I can to keep my mind busy," Alexandra said.
In addition to working on homework, Jake also has found time to partake in personal activities such as fixing up his car and finding ways to relax. On top of these hobbies, Jake and his family focus on spending time together as a family often.
"We do our own things throughout the day, whether it be my parents working from home, Alexandra and me doing homework or just random forms of relaxation. Then, we all come together for our family dinner and proceed to a family activity for nighttime entertainment. Last night it was Yahtzee and a movie," Jake said.
Along with Lafayette's move to online classes for Jake, Alexandra's college, Indiana University (IU), has implemented online learning.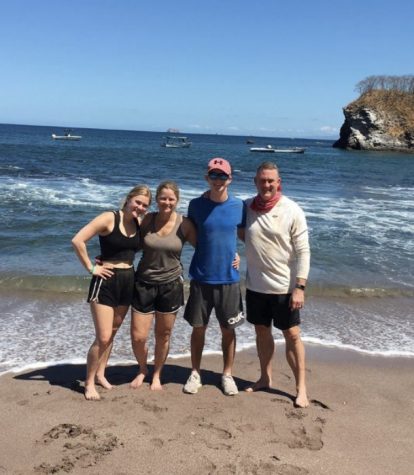 "IU has made all classes online for the remainder of the semester, closed all bars and restaurants (unless it's takeout), canceled all social and sporting and academic events, and closed student housing on campus," Alexandra said. "IU has been amazing with their communication level to their students and faculty. This is obviously a scary and confusing time for everyone, but the faculty at IU has been absolutely amazing with timing accommodations and the postponing of graduation."
In spite of the circumstances, the Dederers have been able to remain positive and confront the new territory with an optimistic outlook.
"I wish it was under better circumstances, but having been away from there consistently for three years – I consider myself very fortunate to be able to be with my brother and parents having family dinners and playing board games and just being together," Alexandra said.
The Dederers have viewed family time as a positive outcome of the situation.
"It's difficult to know our kids are missing out on spending time with friends at school. We are so fortunate, really, to spend two weeks so far with each other. We've played games, eaten every meal together, made lists of things to accomplish and laughed a lot," Jessica said.
With the total number of COVID-19 cases in the United States reaching 330,891 according to the CDC as of April 6, the numbers continue to rise on a daily basis.
"COVID-19 is evolving so rapidly, it's changing daily. None of us ever thought we'd experience a pandemic like this. Yet, here we are. We're optimistic, though, and complying with recommendations. There are smart and talented people working to ensure we are healthy and safe. We'll get through this," Richard said.
Leave a Comment
Donate to The Lancer Feed
Your donation will support the student journalists of Lafayette High School. Your contribution will allow us to purchase equipment and cover our annual website hosting costs.