Out and About: Sunisa's Thai Restaurant
It's always been a struggle for my family and I to find a restaurant serving Asian cuisine that we all enjoy. My mom grew up in the small southeastern country of Laos, so she and my grandmother regularly cook dishes such as pho (rice noodle soup), sai oo-ah (Laotian sausages), pad thai, papaya salad, eggrolls and multitudes of other rice and noodle dishes. 
Because of my family's great familiarity with Asian foods, it's been difficult for us to find an Asian restaurant we enjoy as much as my mom and grandma's home-cooked meals. I'll admit, we have relatively high standards, so we're often disappointed by the restaurants we go to. 
So when my mom and I stumbled upon Sunisa's Thai Restaurant located on 17535 Chesterfield Airport Rd., we weren't expecting much but remained silently hopeful. The restaurant was relatively small, but it was cozy, and the wood paneled walls and Buddhist inspired decorations reminded me of my grandma's house. 
After being seated, the first thing I noticed was how large the menu was. With the appetizers, salads, soups, curries, stir fries, entrees and specials, there were a total of 87 numbered menu options. There was an immense amount of variety in the menu which made it incredibly difficult for me to order, but the waitress provided great recommendations making my mom and I's decisions much easier. 
We ended up ordering lobster wontons as an appetizer. The wontons came out steaming hot, so the creamy, savory contents of the light and crispy shell slightly burned my mouth in the absolute best way possible. They also came with a sweet and sour pineapple sauce which added the perfect sweet accent to the savory wonton. 
For my main course, I ordered the pad thai with a three out of five spice level as advised by the waitress. Everything on the plate—the sticky rice noodles, chicken, eggs, vegetables and peanuts—all complimented each other very well. The crispy peanuts added a nice crunch to the tender rice noodles and the traces of scrambled eggs added a buttery undertone to the whole dish. Everything was well seasoned, but I wish I didn't listen to the waitress and got a spice level higher.
My mom ordered of the tom-yum chicken soup, and despite it being slightly salty, she thought it was the most similar noodle soup to her own that she's had in a restaurant.
After enjoying our meal, I went up to the front desk to pay the relatively small bill, and I got a peak into the kitchen piping with loads of steam and a sizzling stove. I also saw the chef. It was a small woman who reminded me of my grandma. She appeared small and frail and was only slightly taller than the stove, but she was handling the enormous fires with incredibly skill and ease.
As it turned out, the chef was our waitress' grandmother making Sunisa's a family business. Even if I hadn't known it was though, I could have guessed it was a small family business from the food and atmosphere. The food, people, and restaurant itself were immensely genuine. In fact, Sunisa's Thai Restaurant was so genuine and had a home feel that it has become my family and I's go-to restaurant for Asian cuisine.
About the Contributor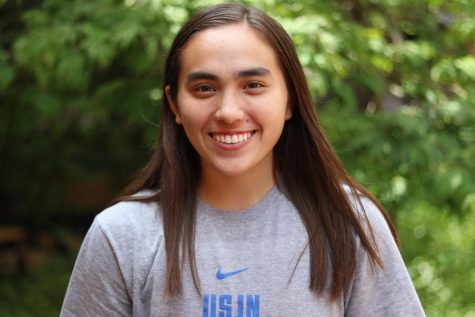 Kayla Carpenter, Editor-in-Chief
Kayla Carpenter is a senior, and this is her third year on staff. She is a member of the girls basketball team, National Honor Society, Lancers Helping Lancers and Key Club. In her free time, she enjoys petting dogs and reading. After high school, she plans to study pre-med and go to medical school....