Intercultural awareness club aims to "open eyes of Lafayette"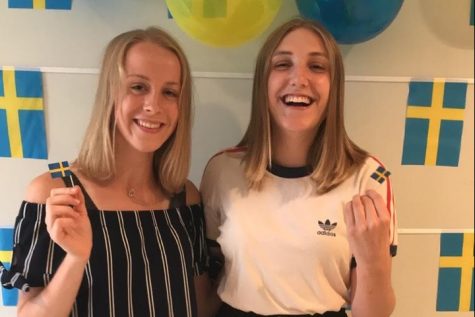 The intercultural awareness club is a newly founded club aimed at understanding and enjoying the different cultures found throughout Lafayette.
Seniors Sanjana Kumar and Anna Karner studied abroad in Japan and afterward wanted to learn of more cultures with their friends.
"It actually started as a Sotai club. It's just like fun stretches and it's really funny. And we wanted an excuse to do Sotai and meet up with friends. But then we thought maybe we could have more of a purpose with this," Anna Karner said.
That's when the intercultural awareness club branched out into what it is today. Karner and Kumar began to advocate for the wonders of foreign exchange students and they pushed to have more at Lafayette, after our only one in 2017-18.
Karner hosted the foreign exchange student for Sweden, Julia Eklund, and she had a positive experience from hosting.
"I got a best friend and I learned a lot about Sweden and it just opened my eyes out of the textbooks. I got to show someone things that I thought everyone knew, but apparently just people in the US know. It opens your eyes to what is beyond Lafayette high school," Karner said.
This year Lafayette has 5 foreign exchange students from countries Spain, Italy, Norway and two from Germany. The intercultural awareness club is still pushing for more foreign exchange students.
"We want to learn from the people in different cultures, like the exchange students we have now. We also want to push for more exchange students in the future and we will hold informational meeting for families that may be interested in host an exchange student in the future," Karner said.
The next meeting will be in the first week of October, flyers will be posted around Lafayette on the date and time.