LTC performs 'Footloose'
On opening night of Lafayette Theatre Company's (LTC) performance of "Footloose" senior Shannon Worley took over the Instagram of the St Louis High School Musical Theatre Awards (SLHSMTA). Worley posted consistently on SLHSMTA's story with updates both before and during the show including pre-show warm-ups, cast interviews and behind-the-curtain videos.
"Mr. Horst asked me if I would be interested in doing an Instagram takeover of the SLHSMTA Instagram. I said sure because I'm super extra when it comes to Instagram stories so I knew it was kind of up my alley," Worley said. "It was really fun to be able to give the STL theatre world a sneak peek of our cast and crew. I loved looking back at the end of the night and seeing all the videos from throughout the show. I did some Q&As with Nick and Nathaniel, posted some pictures and shared some videos of the show and pre-show activities. It made me realize how supported LTC is by our community."
In addition to this, Worley also performed as a student/ensemble member of the cast.
"This show has been my absolute favorite show that I've been a part of. Every single person in the cast is so committed and positive, and it's one of the best show environments I've experienced. Usually, there's a lull in rehearsals and I get tired of going every day, but, for this show, I looked forward to rehearsal," Worley said.
About the Contributor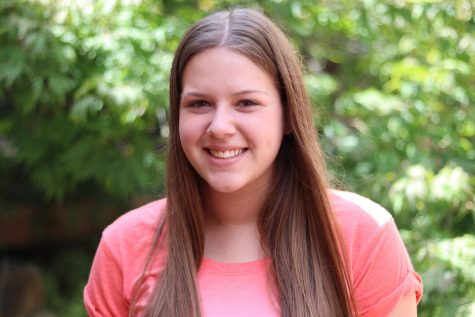 Makayla Archambeault, Assistant Web Editor
Makayla is a sophomore, and this is her second year on staff. When she's not writing, Makayla can usually be found playing lacrosse, helping with a Lafayette Theatre Company production, reading books or watching movies. She can be contacted at marchambeault036@rsdmo.org.