Rugby gains popularity in the Midwest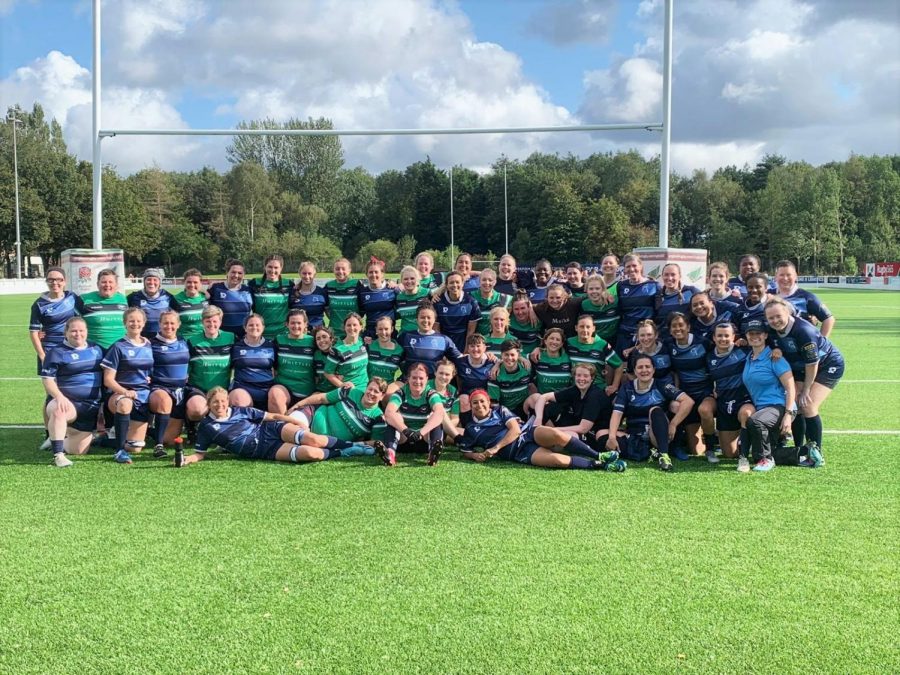 Despite originating in Britain in 1823, the sport of rugby is gaining more traction each year in the United States.
As of 2016, there are over 125,000 members playing in over 2,600 clubs around the country, with over 900 of those clubs being college teams governed by USA Rugby.
Language arts teacher Jennifer Pautz has been playing rugby since her freshman year in college. She originally tried out due to a flyer posted outside her dorm room.
"I saw an advertisement for free cookies along with [the flyer] and thought if I don't like it at least I'll get some free food," Pautz said.
Pautz found more than free cookies at the event, she ended up finding a sport that she loved and lifelong friends.
"The girl who was president [of the club] at the time said that I was going to make a group of friends here, and I wasn't going to need anybody else in the world, and that turned out to be true," she said.
Rugby is played with 15 players on each side of the field and is described as a mix between American football and soccer. The 80-minute game is full-contact, meaning players can tackle, and the time doesn't stop when the ball drops.
The goal of rugby is to score more points than the opposing team and stop the other team from scoring. The primary method of defense includes tackling.
"Everybody needs to know how to tackle, everybody needs to know how to pass the ball and run into contact," Pautz said.
Eric Doherty, the athletic trainer at Lafayette, is a fan of rugby and played during his high school career, his club team won the State Championship his senior year.
Despite not playing for a few years, Doherty still has fond memories of the sport. "The feeling after winning a hard-fought rugby game is extremely gratifying," he said. "You're exhausted and sore but you won with your friends by your side. It's a great feeling that I haven't gotten from playing any other sport."
From a medical perspective, Doherty recognizes how the game could be considered a danger to both players and viewers. "I think it can be dangerous if someone who is taught to tackle wrong starts to play rugby. There have been instances where football players try rugby, but then lead with their head in a tackle and sustain neck injuries, orbital fractures and other injuries."
Local rugby player Sierra Gribble has been playing for the past nine years. Currently, she plays for teams such as the Stars rugby team, the Mid-American All-Stars and the Kansas City Jazz. She also played for her alma mater, the St. Louis Sabres
After playing for so long, Gribble doesn't believe the sport to be dangerous once one has the practice. "We are taught to tackle a certain way that neither us or the player we are tackling are in a compromised position. Like any contact sport, there are injuries, but in rugby they are more preventable due to the tackling techniques and value of the game," Gribble said.
Since she started playing rugby when she was 17, Gribble has found more and more ways to love the game. "To me [rugby] has given me a place of comfort and support. I am 4'11 and have never played a sport where I am treated as equal as any other player," she said. "The sport has such deep values of respect that make a player a great athlete on and off the field."
The sport allowed Gribble to travel all around the country and also allowed Pautz to travel halfway across the world.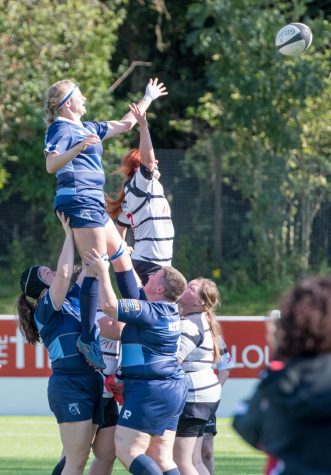 Pautz plays for the USA Rugby Region with her group, Frontier. Within the country, she plays in places like Denver, Colorado, Nebraska, Illinois and other surrounding states. However, from August 31, 2019 to Sept. 1, 2019, Pautz and her team traveled to England to participate in the tournament for the 150th anniversary of the Preston Grasshoppers.
"We were able to take this opportunity [to travel to England] because one of our previous coaches played for a group called the Preston Grasshoppers," Pautz said. "Our coach, Jeff Barnes, has wanted to take the team to England to see his previous club and to have that experience for a really long time. It took two years of planning, but this was the year we got together and made it happen."
Pautz and her team believed that they wouldn't match up to a team who played where the sport originated, but during the tournament, those fears were alleviated.
"It was a lot like playing any team you see here, there were opportunities that they took on us when we made mistakes, but we did the same on them. It wasn't much different, except for their lingo and how they spoke on the field," she said.
With all of her experience and love of the game, Pautz is interested in making a local rugby team once she retires from playing, just like some of her teammates have done. "The goal is to start shifting away from playing ourselves and bring it into the schools almost as a feeder program for the colleges around here," she said. "Just like rugby everywhere, it kind of fluctuates. We're hoping with high school rugby that we can have more feeder programs into those schools."
Pautz is grateful for all that rugby has given her, and she wants to be able to give back and spread the love of rugby within her community.
"The best thing about rugby is that it doesn't matter what athletic ability you have or what kind of person you are, there's a spot for you. And so, finding that strength and empowerment in knowing what you can do the moment you step foot on the pitch, that's what you can bring to the team and that is what they can give back to you," Pautz said.
About the Writer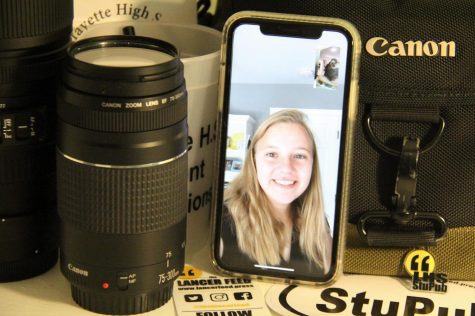 Morgan Vehige, Assistant Editor
Morgan is a junior, and she is serving as an Assistant Editor in her third year on the news production staff. When she's not in the newsroom, Vehige can be found playing softball, reading or attending a local youth group. She can be contacted at [email protected]