LTC uses close relationships to prepare for spring musical "Footloose"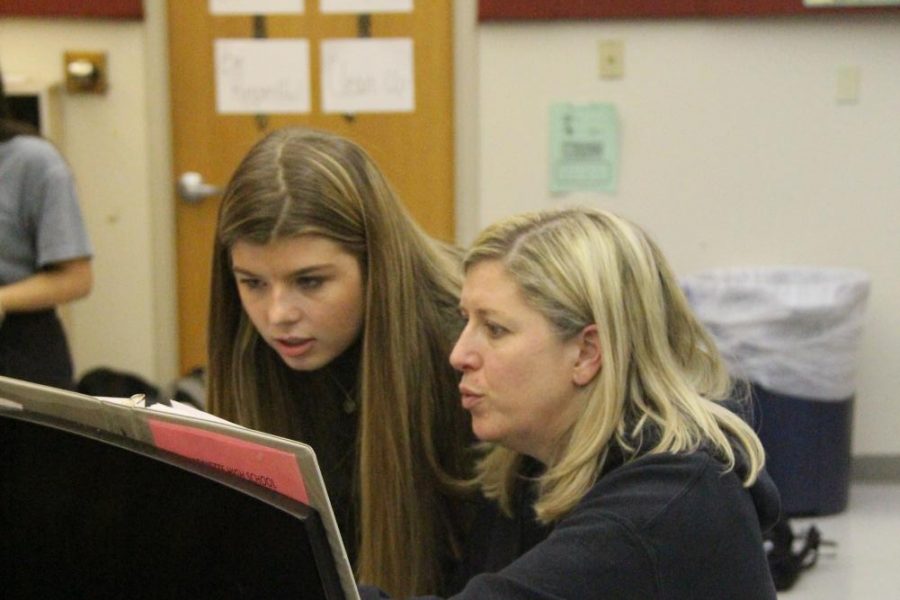 "I think the story and the people will make it special. I just think it's really good to show a show that has more meat, more depth to it. There's also an extra layer of emotion to the show that people will really find interesting especially in Act 2," junior Nathaniel Mahone said. "That's when it gets really good."
 On Feb. 6-8, the Lafayette Theater Company (LTC) will put on the production of "Footloose" for their annual spring musical. The musical will feature Mahone as Reverend Shaw Moore, senior Nick Berry as Ren McCormack, senior Caroline Foster as Ariel Moore and senior Ashley Skaggs as Vi Moore.  
Director Natasha Fischer said about 68 people auditioned for the musical, and 44 were cast in the production including 12 students to the Church Choir Ensemble and 12 other students to the Student Ensemble.
"I'm playing the role of the Student Ensemble, and many people think that ensemble roles are horrible and that they have no lines or spotlight, but I love my role because I sing, act and dance like any other lead or supporting role," senior Zakee Branch said. 
The 44 member cast is a significant change from the 2019 fall play "Noises Off" which included a nine member cast. Skaggs was casted in both productions, and she thinks the difference between the two is more than just the size of the production.
"The difference between the musicals and plays are the difference in connectedness to the cast. With the plays, the shows have a smaller cast, and I feel as if the actors rely on each other more to tell the story they're trying to tell," Skaggs said. "That's not to say that the musicals aren't as connected. The musicals are more upbeat, and it really rallies everyone together. Also everyone gets to jam out to whatever song being performed."
The cast rehearses four days a week for two hours after school. Because of the extensive rehearsal schedule and the tight-knit nature of LTC, the connectedness of the cast and crew is an important part of the production.  
"I'm very excited to be a part of such an alive and ecstatic musical," senior Austin Laves who is a part of the Church Choir Ensemble said. "'Footloose' is known for its energetic dance numbers, and I cannot believe I get to share the stage with such talented actors. The cast and crew really come together and bond over such a special performance which really means a lot to me."
Branch also finds value in the people he is surrounded by in the production. 
"I just love the people I'm around and the different songs, acts and dances we all do and enjoy together. That's what makes it so special. We all laugh, love and learn like one big happy theater family. Also our new people like freshman are really working hard and we love that," Branch said.
In Feb. 2019, LTC was nominated by the St. Louis High School Musical Theatre Awards (SLHSTMA) for five awards for their spring musical "Legally Blonde." Abi Mirikitani, class of 2019, was awarded Outstanding Supporting Actress. SLHSTMA also chose LTC to perform a scene from their production on June 2 at the Fox Theatre for the SLHSTMA Ceremony.
 Despite the success of "Legally Blonde" last year, Skaggs believes "Footloose" can have even more success.
 "I think 'Footloose' will be bigger than any other production thus far. There are so many talented cast and crew members apart of this show, and it's a very well-known show. I believe this show may even be bigger than 'Legally Blonde,'" Skaggs said.
"Footloose" will be Mahone's second LTC production. In addition to LTC, Mahone also performs around St. Louis in professional productions at places such as the Muny and the St. Louis Repertory Theater. However, Mahone thinks his experience with LTC greatly resembles his experiences with professional production companies, and the professionality of LTC will help them to put on a successful performance of "Footloose." 
"Interestingly enough, LTC is very, very similar [to other productions I've been a part of]. Lafayette has a very good theater program in that it's structured like a professional theater," Mahone said. 
For Skaggs, the production will be successful if the entire cast enjoys what they are doing. 
"If we all band together and have fun with whatever we're doing, it shows that we actually care about what we're doing. If we have fun, the audience will have fun. No one wants to watch a bunch of miserable teens singing about wanting to be free to dance," Skaggs said.
Ultimately, Mahone believes above all, one thing will help "Footloose" have as much success as last year's spring musical: the people. 
"[The cast is] just the best. I always say theater people can be some of the nicest people, and I think that's just because the shows you get to do in theater, there's always a message of either support or acceptance. There's something that's so uniting, and I think this cast is no exception," Mahone said. "Everyone really wants to put all of their effort into it, and they lift each other up. Everyone wants everyone to do a good job, and I think that's one of the best things. Everyone's there for each other."
About the Writer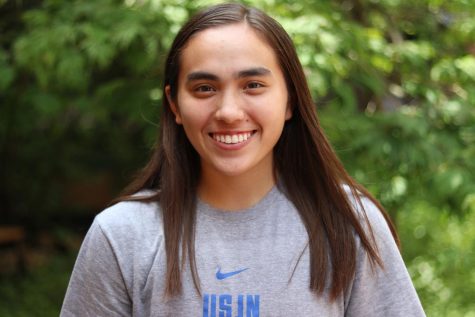 Kayla Carpenter, Editor-in-Chief
Kayla Carpenter is a senior, and this is her third year on staff. She is a member of the girls basketball team, National Honor Society, Lancers Helping Lancers and Key Club. In her free time, she enjoys petting dogs and reading. After high school, she plans to study pre-med and go to medical school....