Disturbance breaks out during Parkway North preseason football jamboree
Aug. 23 marked the unofficial start to the 2019 football season, and instead of ending with a touchdown, it ended with multiple police cars, a K-9 unit and police troopers. The Lancers played in the Parkway North preseason Jamboree on Friday night, and during their second scrimmage of the night, a fight by the field entrance broke out, leading to a gunshot.
"I lined up on the ball and everyone just started running towards the fences yelling 'Get out of [here],'" sophomore Owen Butler said. "At first I thought the crowd was just celebrating and then I just heard loud screams, and my teammates were running away [from the field]."
A spokesperson for the St. Louis County Police Department confirmed a gunshot was fired a little after 8 p.m. following multiple fights. There were no reports of injuries.
"I saw the crowd of people running away," Pernell Garner, junior, said. "I thought it was a celebration or something of that sort when they all started running around the stadium."
"
I had a feeling there was a shooting"
— Pernell Garner, junior
Not long after, members of the Lancer football team realized what was actually going on and started climbing out the back fence with the help of their coaches.
"One of our coaches started telling us to run away from the stadium. That's when I knew something was going on," Garner said. "I had a feeling there was a shooting. It was my first thought since it's something you [have to] worry about every day in our society no matter where you are."
Head football coach Boyd Manne instinctively started to lead players away, his training from practice intruder drills during the previous school years kicking in.
"The first thing that came to my mind was the health, safety and welfare of students and coaches," Manne said.
Matt Jones, sophomore, immediately fled when he saw the crowd running.
"[I was thinking I need to] run as fast as I can, follow the team and don't look back," Jones said.
Almost immediately after hopping the fence, the team got curious and walked back over to the field. From there, coaches allowed players with parents in attendance to pick up their kid or take the team bus back to Lafayette.
Other schools in attendance included DuBourg, Francis Howell North, Hazelwood Central, Hazelwood East, McCluer, Parkway North and Riverview.
Rockwood is taking the events that occurred at Parkway North very seriously.
In a statement emailed to Rockwood families, Superintendent Mark Miles said, "As we prepare to host athletic events in Rockwood, including several home football games this Friday night, our administrators, activities directors, coaches, and staff members will be actively reviewing safety protocols and practices in collaboration with local law enforcement personnel."
Miles also stated he is working with Parkway Superintendent Keith Marty and law enforcement to conduct an ongoing investigation. The Missouri State High School Athletic Association Executive Director also released a statement regarding the two jamboree incidents. The other incident occurred in a similar way, with the incident near Soldan High School ending in one death and three injuries.
"I would have never thought something like this would happen, and now it just really makes me think about what society we're really in today," Butler said. "It's very painful knowing that we have to worry about the people that have guns and what they [may] decide to do with them."
About the Contributor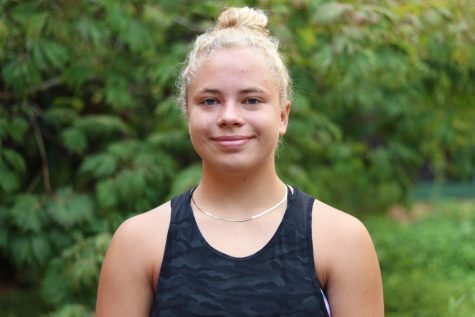 Sophia Scheller, Staff Reporter
Sophia Scheller is a junior, and this is her second year on the Image staff and her first year on the Digital Media staff. Outside of publications, she is a member of the girls basketball team and lacrosse team. She loves spending time with her dog. Sophia can be contacted at [email protected]