"Legally Blonde" receives five award nominations
The Lafayette Theatre Company was awarded five nominations of recognition for their spring musical, "Legally Blonde". The nominations received are Outstanding Production, Outstanding Supporting Actress (senior Abi Mirikitani), Outstanding Ensemble, Outstanding Musical Direction (Christy Shaffer) and Outstanding Orchestra.
These nominations are selected by the St. Louis High School Musical Theatre Awards (SLHSMTA), which is "designed to celebrate outstanding achievement in high school musical theatre."
Director Daniel Horst contributes the nominations to his students' devotion to the production.
"It's a really big show and there's a lot that goes into it. They worked really hard, so I think they are definitely deserving of the nomination," Horst said.
Horst also contributed the success of the show to Music Director Christy Shaffer.
"We needed a good music teacher to achieve what the writers had in mind, and she definitely worked really well with the cast," Horst said.
However, Shaffer redirected all recognition to her students.
"I really feel like this is not about me. It's definitely about the kids because they are incredibly talented and incredibly hard working. Even though it's my name on the award, I really feel like it's about them," Shaffer said.
Shaffer recalls the pride she felt watching her students' final production of Legally Blonde from the audience.
"As someone who worked with them on the music, I knew where they personally struggled and it was fantastic watching them triumph over those difficult parts," Shaffer said.
The Lafayette Theatre Company will perform the musical number Bend and Snap at the third annual SLHSMTA Ceremony at the Fox Theatre on June 2 at 4 p.m. Winners from each nomination category will also be announced at the ceremony.
"I think that it's life changing for anybody who gets the opportunity to perform [at the Fox Theatre]. It's a St. Louis legacy," Shaffer said. "I'm super excited for them and I'm going to almost be bursting that afternoon to get to watch them experience that."
About the Contributor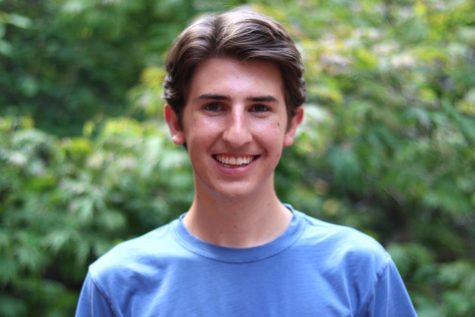 Jack Weaver, Digital Media Editor
Jack Weaver was on the Image staff and the Digital Media staff for all four years of his time at Lafayette. During his senior year, Jack served as the Digital Media Editor and the Social Media Editor. He will attend the University of Kentucky to study Business Administration and Journalism.