Castelberg's love of fashion leads to runway competition
Hang on for a minute...we're trying to find some more stories you might like.
Fashion shows are an excellent way for designers to display their work. For junior Francesca Castelberg, competing in the Lindenwood Fashion Show gives her the opportunity to have her designs noticed. Last year she displayed a black and gold dress. This year she is working on a pink romper that had to be completed by Monday, Oct. 22.
"I try not to use a pattern and just make it on my mannequin and whoever is modeling it. At the fashion show, you could choose to model your own clothing that you make or get someone to model it for you. I prefer to have someone else be the model, I find it easier to make clothes for other people," Castelberg said.
Castelberg used her cousin, Emilie Meyer, as her model last year, but is introducing Kaylee Grenko as her model for this year's design. She has been working on her romper for six weeks and is excited to pursue a different design then she has previously used. 
Not only does Castelberg get to present her work, she also gets the opportunity to meet other people with a similar interest: fashion.
"The whole experience is a lot of fun, and I enjoy meeting other talented people and get ideas/advice on how to improve. From the fashion show, I've learned new trends, different styles and just from sewing the dress I've learned many skills on how to do different seam finishes."
This will be Castelberg's second year competing and she hopes to win a scholarship to Lindenwood University with her romper. She has taken both Fashion 1 and 2 at Lafayette, but works independently on her fashion show creation. 
"I enjoy making these designs because I love seeing my designs on paper and then actually creating it. I'm not sure if I want a career completely based on fashion but I want to major in international business and minor in fashion," Castelberg said.
The fashion show will be held at the Emerson Black Box Theater on Dec. 7 at noon.
About the Writer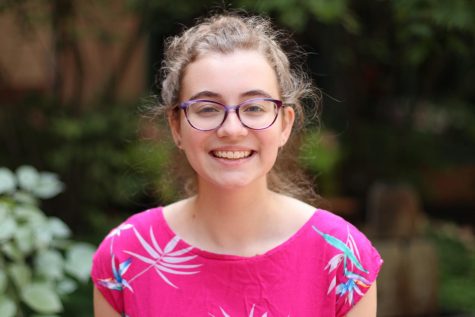 Melina Hudak, Staff Writer
Melina Hudak is a senior, and this is her first year on staff. When she isn't at school, Melina can be found dancing ballet or at the doctor's office. She hopes to pursue forensic science as a career. She can be contacted at mhudak044@rsdmo.org.