Hawley wins 2018 Missouri Senate race
Hang on for a minute...we're trying to find some more stories you might like.
Following the election on Nov. 6, Republican Josh Hawley will replace incumbent Claire McCaskill's seat in the United States Senate.
Hawley, who is just 38 years old, is a relative newcomer to the political scene. His only previous electoral experience was the office of Missouri attorney general, which he was elected to in 2016.
However, on the campaign trail, Hawley used his rookie status to his advantage, calling McCaskill's Senate career, which started in 2006, into question. In May, he wrote that McCaskill, who is a Democrat, is "the ultimate D.C. insider," and during their only televised debate, Hawley said that she is a "party-line liberal" who "does not represent this state anymore."
In that same debate, McCaskill said that Hawley's campaign "has a tortured relationship with the truth."
The two clashed on hot topics such as gun control, immigration, healthcare, climate change and Social Security. Hawley's victory comes as a reinforcement of Missouri voters' support for President Trump and the Republican Party. Indeed, Trump won the popular vote in Missouri by a margin of 19 points.
As attorney general, Hawley joined a lawsuit led by Texas Republicans to strike down the Affordable Care Act (ACA), also known as Obamacare. The move became a major talking point for both Hawley and McCaskill throughout the campaign.
Hawley also faced pressure during the campaign for his association with former governor Eric Greitens, who resigned in May amid scandals of sexual misconduct, blackmail and misuse of a charity list for political fundraising.
Nonetheless, President Trump expressed his support for Hawley several times through his campaign, even coming to Missouri on multiple occasions to stump for Hawley. "Josh Hawley should win big, and has my full endorsement," Trump tweeted in June. At a rally in Kansas City, Trump said voting for Hawley would be "voting for me."
Due to his relatively short political career, Missouri voters may be uncertain about what to expect from Hawley in the Senate. However, as both he and President Trump have said, Hawley is a staunch conservative and a fierce supporter of President Trump. His next six years in the Senate will likely reflect that.
photo courtesy of Josh Hawley for Senate
About the Writer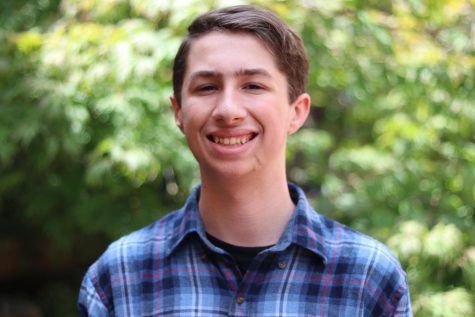 Alex Rozar, Opinions Editor
Alex Rozar is a senior, and this is his third year on staff. He is an avid music listener and has an interest in law and politics. Outside of publications, he is a member of the speech and debate team, Student Council, Lancers Helping Lancers and National Honor Society. Alex can be contacted at arozar039@rsdmo.org.