Weekly sports update: Oct. 7-Oct. 14
Hang on for a minute...we're trying to find some more stories you might like.
Boys Cross Country: The boys cross country team finished in first place at the Parkway South Patriot Classic at Castlewood State Park on Oct. 11. Harrison Brown led the team with a first place finish and crossed the finish line in 15:37. The Lancers will run again on Oct. 20 at the District Meet at 10 a.m. at Parkway Central High School.
Boys Soccer: The boys soccer team tied 1-1 at Westminster Christian Academy on Oct. 8. Then on Oct. 9, they defeated Duchesne, 6-0. Junior Matt Kanan scored two goals in the win. The Lancers will play next at Fort Zumwalt North on Oct. 15, and then they will host Eureka on Oct 16.
Boys Swimming: The boys swimming and diving team competed against Liberty (Wentzville) on Oct. 10, and they defeated the Eagles 125-54. Their next regular season meet is on Oct. 18 at 4:30 p.m. where the Lancers will host Francis Howell North.
Field Hockey: The Lady Lancers traveled to John Burroughs on Oct. 10, and they defeated the Bombers 3-1, improving their record to 11-6. In the win, junior Rachael Bierschenk scored one goal, and junior Lauren Marshall scored two. The team has three games this week. On Oct. 15, they will take on Rockwood Summit at 4:30 p.m. at home, on Oct. 17, they will take on Villa Duchesne at 4:30 p.m. and they will cap off their regular season at Edwardsville on Oct. 19 at 5:45 p.m.
Football: The Lancers fell to Lindbergh on Oct. 12 in the final home game of the season with a final score of 0-30. The Lancers took on the Flyers without starting junior quarterback Joey Moorkamp who is out for the rest of the season with a knee injury. The team's final game of the season is on Oct. 19 where the Lancers will take on their conference rival Marquette.
Girls Cross Country: The girls cross country team earned a third place team finish at the Patriot classic on Oct. 11. Anna Karner headed the team with a second place individual finish. The Lady Lancers will run again on Oct. 20 in the District Meet at Parkway Central High School. 
Girls Golf: The Lady Lancers will not compete in the State Tournament as a team since they earned 5th place at Sectionals on Oct. 8. Sophomore Brooke Biermann, however, earned the individual first place trophy with the lowest 18-hole score of 75 strokes. Biermann's victory also earns her a spot in the State match in Kansas City, Missouri.
Girls Tennis: The girls tennis team competed in both individual and doubles at the Sectional match on Oct. 13. As a team, the Lancers fell to St. Joseph's and both doubles teams including juniors Meghan Ferguson and Laney Tvrdik and seniors Maya Martin and Lydia Koester were defeated at the Sectional Match too. Junior Erin Davis and freshman Katie Ferguson, however, both won their individual Sectional matches, advancing in the State Tournament.
Girls Volleyball: The Lady Lancer volleyball team defeated Parkway West on Oct. 8 in two sets. Then on Oct. 13, the team traveled to Ozark, Missouri to take on teams from across the state in the Ozark Grand Slam Tournament, and they went 5-1, losing in the championship game to nationally ranked Helias High School from Jefferson City, Missouri. Senior Staciana Stock continues to lead the team with 39 aces and 221 kills. The team's next games are on Oct. 16 at 6 p.m. where they will take on Nerinx Hall and on Oct. 18 at 5:45 p.m. at Francis Howell.
Softball: The softball team fell to Northwest Cedar Hill on Oct. 8, 7-5. On Oct. 10, they defeated Parkway West 4-3 in the first round of the District Tournament. Sophomore Kate Sommer hit a walk off home run in the bottom of the 7th inning to advance the Lady Lancers to the second round of Districts. In the second round game on Oct. 11, the teams fell to Eureka 13-3, ending their season with an overall record of 13-13.
About the Writer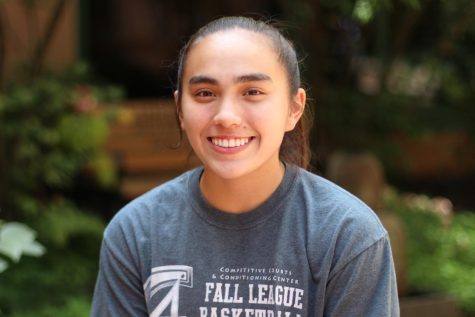 Kayla Carpenter, Sports Editor
Kayla Carpenter is a junior, and this is her second year on staff. She is on the girls varsity basketball team, runs cross country and is a member of Key Club. She enjoys to read and spend time with friends and family. After high school, she plans to study pre-med and go to medical school. She can be...