Rockwood plans The Way Forward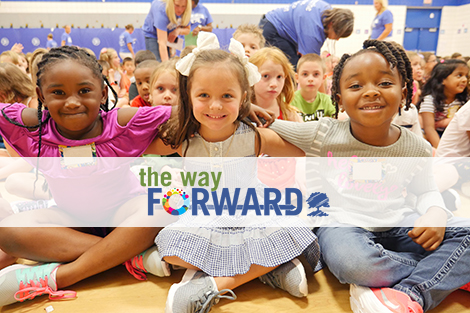 Hang on for a minute...we're trying to find some more stories you might like.
Back in April of 2015, Rockwood voters approved a $68.95 million bond issue allowing the district to make improvements to elementary schools, middle schools and high schools within the district.
The 2017 bond issue order allowed a new elementary school to be built in Eureka. Construction is currently underway and the school is expected to be running for the 2019-2020 school year. Rockwood has also been able to expand early childhood education and build additional classrooms in several schools with the additional money.
Superintendent Dr. Eric Knost is also working to make high schools STEM focused. Classes such as Algebra 1 in manufacturing processes, entrepreneurship and design and geometry in construction have been offered in high schools to reinforce this idea.
Middle schools have started implementing a new math scope as well. A new focus on the math curriculum on reason, problem-solving and personalizing education for students has been seen this school year.
The bond issue has allowed building a 90,000 square foot addition specifically for STEM to Eureka High School. Technology upgrades such as the 1-to-1 technology policy have been applied as all grades now have Chromebooks at Lafayette.
High Schools are offering an early college partnership with St. Louis Community College, allowing students to earn an associate's degree by the time they earn their high school diploma.
"This is something that I honestly think that 10 years from now, this is going to be just about everywhere. High school kids are going to be able to double up in their learning and get two year community college associates degrees while in high school," Knost said.
More recently, Rockwood started In-House transportation, as well as created an after-school activity bus. Back in 2016, Rockwood decided to produce their own buses, which hadn't been done for 42 years in Rockwood. This change is estimated to continue saving the district money. In the first year, it was estimated to save $500,000.
Academically, Rockwood continues to perform above state average with a composite ACT average of 24.3 compared to the 23.8 average for the state of Missouri. However, a point Knost said Rockwood needs to improve on is the gap between the schools' minority students and the rest of the students.
Knost has made a commitment to ensure smaller class sizes to help personalize education to students needs. Rockwood has hired new social workers for Pre-K – 12 to reach that goal.
The middle schools are moving back in the direction of grade level counselors. Previously, a student's counselor was based on their last name.
In light of recent tragedies, Knost said safety has been a big concern from the public. He hopes that giving students a teacher to identify as a 'champion' and making school a safe place will lower the likelihood any student would bring harm to their school.
"I believe it with all my heart and soul and research will tell us that if a child has even one bright spot in their school, one adult they identify with as a champion, that child is far less likely to ever bring harm to that place," Knost said.
Local police can now also look through Rockwood's security cameras in case of an emergency to help increase safety.
In order to get the public's feedback on the direction of the district, Rockwood is encouraging people to participate in a Thought Exchange survey. The survey will be open to responses until October 7.
"We can do better and be better and that's the goal and that the idea of The Way Forward," Knost said. "It's not a house of cards that is reliant on one person, it's a community effort."
The survey poses the question of what your hopes are for Rockwood moving forward. Responses are limited to 200 characters, but people may respond as many times as they would like. Knost hopes to utilize this survey to get input from the public outside of the school board.
Focus groups will also be held to receive public opinion on Rockwood's plans. You can register online for one of the various times offered on October 8. The primary focus of these groups will be to share public opinions about the future.
More information about The Way Forward can be found here.
About the Writer
Chloe Baker, Web Editor
Chloe Baker is a junior, and this is her second year on staff. She is a part of the LHS water polo team and Fellowship of Christian Athletes. Her hobbies include reading and writing. Chloe can be contacted at cbaker047@rsdmo.org.