Weekly sports update: Sept. 16-Sept. 23
Hang on for a minute...we're trying to find some more stories you might like.
Boys Cross Country: Lafayette had a busy weekend in Fayetteville, Arkansas where they earned a 12th place team finish out of a field of 87 teams at the Chile Pepper Cross Country Invitational. Harrison Brown led the team with a 12th place individual finish. Their next meet is Sept 29. at Life Point Church where they will race in the Parkway West Invitational.
Boys Soccer: On Sept 18, boys soccer defeated Pattonville, 1-0. Senior Thomas MacInnes scored in the first half, with the assistance of junior Sam  Londono. On Sept 20, they fell to Lindbergh, 4-0. The team will host Francis Howell Central on Oct. 1 at 6 p.m. Then they will go to Webster Groves for a 4:30 p.m. game. To finish up the week, they will host Oakville on Oct. 4 at 6 p.m.
Boys Swimming: On Sept. 20, the boys swim team lost at Marquette 114-72. The team will host Parkway West on Oct. 2 at 4:30 pm, and then they will host Kirkwood on Oct. 4 at 4:30 p.m.
Field Hockey:  The Lady Lancers had an action packed week as lost to Kirkwood on Sept. 17, but they defeated St. Joseph's on Sept. 19. The girls also traveled to Louisville, Kentucky this weekend to compete against new, talented competition. The Lady Lancers went 1-2 in Louisville, losing 1-2 to Assumption High School (Louisville), losing 1-4 to Dupont Manual High School (Louisville), and defeating Mercy High School (Louisville) 5-1. Junior Lauren Marshall leads the team with six goals while junior Rachel Bierschenk leads the team with five assists. The girls next games are on Sept. 25 against Eureka at 4:30 p.m. and on Sept. 26 against Parkway West at 4:15 p.m.
Football: The Lancers earned their second win of the season on Sept. 21 against Northwest. They defeated the Lions 36-0, and their next game is the team's Homecoming game on Sept. 28 at 7 p.m. against Parkway South.
Girls Cross Country: The Lancers had an exciting weekend at the Chile Pepper Invitational in Fayetteville, Arkansas. The team finished 18th out of 72 teams with senior Anna Karner leading the team with a 26th place finish out of 576 runners. The next meet is on Sept. 29. at the Parkway West Invitational. 
Girls Golf: Girls golf defeated Summit 204-187 on Sept. 19. They also beat Seckman 203-193 on Sept. 20. This week, they will play Marquette at 3:45 p.m. on Sept. 24, and they will compete in the Suburban Conference Championships starting at 8 a.m. on Sept. 26.
Girls Tennis: The girls tennis team defeated Parkway South 9-0 on Sept. 17 and they beat Westminster on Sept. 18 10-2. The Lady Lancer's next game is on Sept. 24 at 4 p.m. at MICDS.
Girls Volleyball: The Lady Lancers won both of their games this week. On Sept. 18, the girls defeated Cor Jesu in two sets and on Sept. 20, they defeated Mehlville in three sets improving their record to 11-4. Senior Staciana Stock continues to lead the team with 133 kills and 23 aces. Their next game is on Sept. 25 at 5:30 p.m. against Marquette at home.
Softball: The Lady Lancers lost to Lindbergh this week 12-7, but they also defeated Fort Zumwalt South 4-3 and St. Joseph's 8-0. Their record is now 8-9. This week, they will play Francis Howell Central at 4:15 p.m. on Sept. 20 and Summit at 4:15 p.m. on Sept. 25.
About the Writer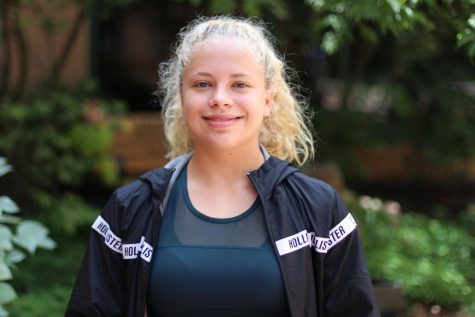 Sophia Scheller, Staff Writer
Sophia Scheller is a sophomore, and this is her first year on staff. She is a part of the LHS basketball and lacrosse team. Her hobbies include collecting records and spending quality time with her dog. She plans to play college lacrosse in the future. Sophia can be contacted at sscheller065@rsdmo.org.