Weekly sports update: Sept. 9-Sept. 16
Hang on for a minute...we're trying to find some more stories you might like.
Boys Cross Country: The Lancers swept their field this weekend as they took home the first place title for the freshman, junior varsity and varsity divisions at the Paul Enke Invitational at Sioux Passage Park. Senior Harrison Brown finished first overall to help the Lancers secure the win. The next meet will be Sept. 22 at the Chile Pepper Invitational in Fayetteville, Arkansas.
Boys Soccer: The boys soccer team went 0-2 this week with losses to both Parkway South and Mehlville, so their current record is now 3-4. Sophomores Luc Fladda and Ben MacInnes lead the team with two goals each on the season. The Lancers' next games are at Pattonville on Sept. 18 at 4:30 p.m. and against Lindbergh at home on Sept. 20 at 6:00 p.m.
Boys Swimming:  The boys swim team competed in the Marquette Relays on Sept. 15, and seniors Ben Brim, Jacob Hepper and Josh Moellenhoff placed second in the 300-Meter Breaststroke relay. The boys will take on Oakville and SLUH in a tri-meet on Sept. 18 at 4:30 p.m. and on Sept. 20, they will compete at Marquette at 4:30 p.m.  
Field Hockey: This week the Lady Lancers defeated Westminster 5-0 on Sept. 10, but they fell to Visitation 1-0 on Sept. 13. Junior Lauren Marshall and sophomore Mia Simpson both lead the team with five goals each. The team is set to play two road games this week. They will take on Kirkwood on Sept. 17 at 4:30 and St. Joseph's on Sept. 19 at 4:30.  
Football: The Lancers faced off against Eureka in the Battle of 109 on Sept. 15, and they fell to the Wildcats 17-56. In the loss, junior Joey Moorkamp and sophomore Pernell Garner each scored one touchdown. The team now has a 1-3 record, and they're set to take on the Lions of Northwest Cedar Hill at home on Sept. 21 at 7 p.m.
Girls Cross Country: The Lady Lancers earned a 4th place team finish at the Paul Enke Invitational Meet. Senior Anna Karner earned an 8th place individual finish to lead the team while freshman Molly Nemnich placed 26th. The next meet will be on Sept. 22 at the Chile Pepper Invitational in Fayetteville, Arkansas.
Girls Golf: The Lady Lancers played in the Summit Scramble tournament and placed 6th. They also placed 10th in the Angel Classic tournament, and Brooke Biermann placed second individually. This week, on Sept. 18, they will play at 3:45 p.m. against Rockwood Summit at Crescent Farms. On Sept. 20, they will play Seckman at 3:45 p.m. at Pomme Green Golf Course.
Girls Tennis: The girls tennisvteam will be in action on Sept. 17 at home against Parkway South at 4:15 p.m, Sept. 18 at 4:30 p.m. at Westminster and Sept. 20 at 4:15 p.m. at Parkway Central.
Girls Volleyball: The Lady Lancers had a busy week as they defeated Webster Groves, Lindbergh, Althoff, Briarcrest and Borgia. The team played in the St. Joseph's Tournament of Champions on Sept 15, and they finished second in the talented field of competitors. After defeating Althoff in the first round of the tournament in three close sets, they fell to the team from Belleville, Illinois in the championship match. Senior Staciana Stock still leads the team with 59 kills, and last week, she was named the LHS Athlete of the Month for August.  
Softball: The Lady Lancers wiped out Parkway South 10-3 and defeated Parkway North 9-8. They lost to Holt, Kirkwood, Timberland, Eureka and Oakville last week, making their current record 6-8. This week, they have three home games and three away games where they will face Fort Zumwalt South, St. Joseph's, Hazelwood West, Lindbergh, Francis Howell Central and Summit.
About the Writer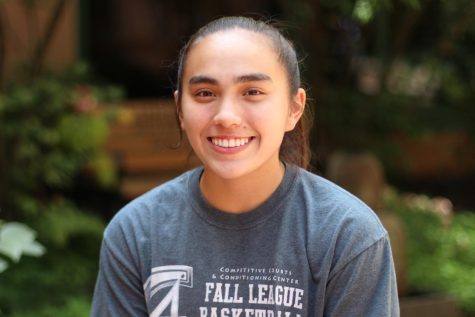 Kayla Carpenter, Sports Editor
Kayla Carpenter is a junior, and this is her second year on staff. She is on the girls varsity basketball team, runs cross country and is a member of Key Club. She enjoys to read and spend time with friends and family. After high school, she plans to study pre-med and go to medical school. She can be...