Girls wrestling announced as new sport for 2018-2019 school year
Hang on for a minute...we're trying to find some more stories you might like.
The Missouri State High School Activities Association (MSHSAA) made the decision in early May to add girls wrestling as an official high school level sport starting in the 2018-2019 school year. The decision makes Missouri the ninth state in the country to officially add the sport.
The decision allows MSHSAA to hold a separate girls District and State tournament, so girls do not have to compete against boys in the postseason. However, girls will still have the choice to compete against male wrestlers during the regular season.
Head Coach Jonathan Sumner is happy to be adding an official girls wrestling team to LHS.
"Women's wrestling has been a very fast growing sport around the country, so we are glad to see it grow here in Missouri," Sumner said. "This is an exciting opportunity for the sport of wrestling and for girls all around the state to pave their way into history."
Due to the addition of a girls team, Sumner plans to change certain aspects of his practices, but he expects the overall wrestling program to look the same as previous seasons.
"We will make some modifications as far as practice plans to accommodate for more girls in our program. A lot of the skills will be the same as the boys practice, just like basketball, soccer or any other sport, but there's a few technical differences. Overall the structure will look similar, we will just have girls competing with each other in the room," Sumner said.
Sumner plans to add more girls-only tournaments to the the Lancer's schedule next season, and he even plans to hold a girls-only tournament at LHS.
Although the addition of an official girls wrestling team is new at LHS, next year will not be the first season LHS will have a girl in the program.
Sophomore Emma Cole competed for the Lancers last season, and she and her sister, Faith Cole, a rising freshman, will both compete for a State Championship next year.
"Now that there is a girls division for State, I know that I have a chance at placing," Emma said. "My sister will be joining the team next year as a freshman, and I know that she and I have the same goal of being a State Champ. Whether it be next year or the year after, the goal is to make it to the top of the podium."
Sumner also has big expectations for the Cole sisters next season.
He said, "These sisters will be the backbone of our line up."
Emma knows there may be some initial struggle to implementing the new sport, but she is optimistic about what next year will hold.  
"Next year will definitely be a learning year for both us and the coaches. We will just learn and make progress along the way," Emma said. "I know our coaches are dedicated and completely willing to make everything run smoothly."
Emma has advice for any girls who are interested in joining the girls wrestling team.
"The only thing I ask of a someone who comes out is that they should be dedicated and willing to put in the work because it is a tough sport that requires work and effort for success," Emma said.
Sumner invites any girls who are interested in joining the girls wrestling team to try the sport even if they don't have any prior wrestling experience.
"No experience is necessary. We have boys that start wrestling in high school and earn state medals in the largest class in wrestling each year, so you do not have to have a background," Sumner said. "This is a great opportunity to compete and potentially earn the opportunity to go to college at a reduced price as their are many schools starting programs around the country.
Sumner plans to hold a girls wrestling introductory camp at LHS this summer, and he asks for any girls with questions or interested in becoming a member of the wrestling team to contact or visit him in Room 118.
About the Writer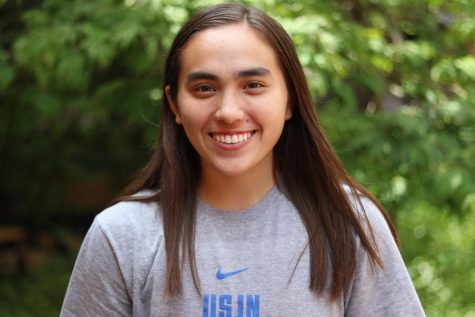 Kayla Carpenter, Editor-in-Chief
Kayla Carpenter is a senior, and this is her third year on staff. She is a member of the girls basketball team, National Honor Society, Lancers Helping Lancers, and Key Club. In her free time, she enjoys petting dogs and reading. After high school, she plans to study pre-med and go to medical school....