My Grandma Rocks
Meyrer's grandmother still competes in track and field events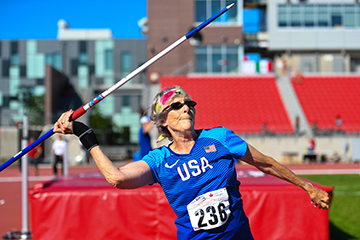 Christel Donley, Siena Meyrer's grandma, doesn't dance but she definitely stays fit. Donley participates in track and field events at the age of 83. She got into track and field when she was about 13 and living in Germany, but moved to the United States in 1968.
"There wasn't much to do at the time, because everything was destroyed and the only thing you could do was play outside," Donley said.  
They would run in the streets and form little teams to create more competition. There were no high school sports for her to participate in, but soon clubs started forming and taking kids in.
"We all picked up running and throwing. School was helter skelter, so a bunch of kids were just starting to do sports," Donley said.
She had P.E. everyday, which unlike many of her peers, she enjoyed very much.
"Sports were very important to me at that time, and I just stuck with it," Donley said.
Donley thinks it is very important to stay in shape.
"There's a latin saying, 'mens sana in corpore sano', which translates to 'healthy spirit and a healthy body," Donley said.
She said her teachers often put emphasis on the saying that sports and learning went together, and Donley fully agrees that it is important to do both.
"Everybody has a different gift. Sports and moving are just one of the better things to compensate," Donley said.
In Landover, Maryland, Donley competed in an indoor National competition that aired on television. She raced against other 80 year olds and also a woman who was 103 years old.
"That woman is so sharp and so well fit. We totally admire [her]," Donley said.
According to Donley, she had dead heat with five other women and they did not know who won the 16 meter race.
"It was in a few hundreds of a second, which years ago you couldn't even tell. But know they have all the electronic timing and the photos. It was fun," Donley said.
Donley had her kids play a sport growing up, or had them do something to stay active.
"Every parent should get there kid to do it [something physical]. It doesn't make a difference what it is," Donley said.
Meyrer's did track last year, but is still inspired by what her grandma does, and is motivated to stay fit, so she can be like her when she is older.  
"Whenever I hear about some of her races, I just think it's really cool that even though she is over 80, she's still keeping fit and she is doing something that she loves," Meyer's said.
Donley said she hopes her grandkids have seen how important it is to stay active, and know what can be done [if you put your mind to it].
"There is no age limits," Donley said, "Nike says that there is no finish line, which is a very bad thing because there better be a finish line or else you're gonna drop."
According to Donley, the best thing about competing is the feeling that comes with it.
"Feeling like you are still totally with it. I mean, I'm 83 years old, so this is the age where people normally stop doing things, but I've stayed healthy," Donley said.
Even though Donley has had her fair share of complaining about injuries, she has realized that it is part of what she does.
"She's had health problems in the past with her shoulder. Sometimes she calls my mom and tells her that her shoulder is acting up, so I get nervous but I know she will push herself without doing anything too extreme. She knows when to stop," Meyer's said.
To all the young kids in the world, Donley has some advice that she says will help your whole being.
"If you want to have fun in life, besides learning and working, stay with a sport. We used to call it the second most important thing. First thing is to make a living or have a job, the second thing is to stay active," Donley said.
About the Writer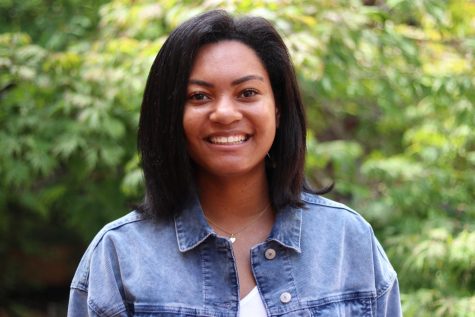 Addie Watson, Staff Reporter
Addie Watson was on staff for two years.