Weekly sports update: Oct. 28-Nov. 4
Hang on for a minute...we're trying to find some more stories you might like.
Boys Cross Country: The boys cross country team placed fourth overall at the State Championship Meet. Senior Harrison Brown placed sixth, and senior Michael Nicholson placed 11th. The team will graduate nine seniors: Michael Atteberry, Harrison Brown, Nick Crouch, Kyle Gribbon, Cole Johnson, Kyle Kimberlin, James Kirtley, Michael Nicholson and Bharat Sreekrishnavilas. 
Boys Soccer: The Lancers fell to Marquette 0-2 on Oct. 30 during the first round of Districts to end their season. They ended their season with a 8-12 record and will graduate eight seniors; Colin Carnahan, Jordan Cizek, Cade Fladda, Michael Graves, Brenden Jackson,  Max Kreikemeier, Kyle Mazza and Alec Moser.
Field Hockey:  The Lady Lancers fell to MICDS in the quarter-finals of the State Tournament 0-3. The team ended the season with a 13-9 record. Sophomore Mia Simpson led the team with 14 goals on the season while senior Lilly Balderson led the team with 11 assists. The team will return both of their leading scorers Simpson and junior Lauren Marshall while graduating eight seniors: Lilly Balderston, Katherine Goddin, Macy Guevara, Elle McElroy, Zoe Osburg, Anna Reynolds, Leah Rubaie and Treasure Smith.
Boys Swimming: The boys swim team is sending six swimmers to the State Meet on Nov. 8 and Nov 9 at the St. Peter's Rec-Plex. 
Girls Cross Country: The girls cross country team did not qualify as a team to compete in the State Championship; however, senior Anna Karner qualified for the meet individually. Karner placed 49th out of 169 runners. The Lancers will graduate eight seniors: Emma Hoeft, Anna Karner, Adeesya Gausper, Rosalie Gill, Julia Lanfersieck, Mari Steinsland, Kelli Rinkenberger and Emily Wilson.
Girls Volleyball: After ending their six year State Championship title run last season, the Lady Lancers advanced to the State Championship match on Nov. 3 where they took on Conference rival Eureka. The team fell to the Wildcats in two sets and finished as the State runner ups. The Lady Lancers finished the season with a 31-6-3 record, and they will graduate four seniors this season: Natalie Leonard, Ava Mitchell, Staciana Stock and Lauren Willis.
About the Writer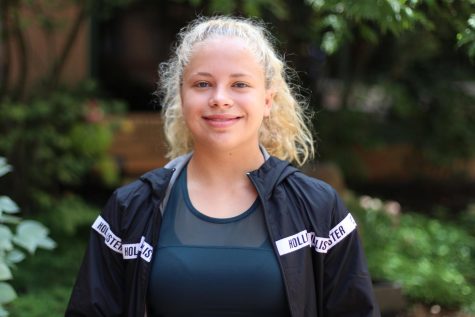 Sophia Scheller, Staff Writer
Sophia Scheller is a sophomore, and this is her first year on staff. She is a part of the LHS basketball and lacrosse team. Her hobbies include collecting records and spending quality time with her dog. She plans to play college lacrosse in the future. Sophia can be contacted at sscheller065@rsdmo.org.